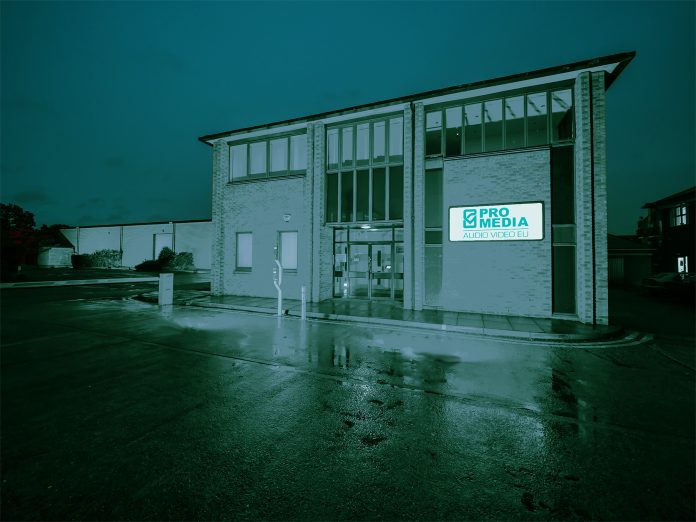 Building on its distinguished 45-year history, Pro Media Audio Video – a world class technology integrator – recently made significant moves into Europe with the establishment of a new division and office led by integration industry expert, Eddie Thomas.
Headquartered in Lititz, Pennsylvania, the company has been in operation since 1978 and joined the Clair Global Group of businesses in 2019. It did so with a multidisciplinary approach and an illustrious history in live production, and the integration of technologies into world class performance and sports venues.
Pro Media Audio Video comes to Europe with a legacy of construction to production experience in the design, integration, installation and operation of world class AV systems. The company is built on a foundation of client focus and technical expertise. This is accomplished through a comprehensive understanding of how to achieve the clients' vision for an ever-increasing, meaningful fan experience.
As a complete systems integrator and technology partner, Pro Media Audio Video utilises both in-house and expert designers from the fields of audio, AV, network management, IT comms and infrastructure for a wide range of activity in multiple business sectors.
In Eddie Thomas the European base has a seasoned professional at the helm, bringing decades of experience working in audio systems, network design and electroacoustics.
View this post on Instagram
Coming to Europe with an impeccable record for on time and on budget delivery, a feat any potential client will look upon favourably, Pro Media Audio Video already has a plethora of high-profile projects in its portfolio. The company enjoys longevity in the relationships that come with being a reputable service provider, especially in professional sporting circles as stadium technology is advancing.
Accomplishments in stadiums and arenas include the AT&T Stadium in Texas which is home to the NFL's Dallas Cowboys; LA's Dodger Stadium where fans and international tourists alike travel to watch live action baseball and SoFi Stadium – home of the LA Rams & Chargers.
Pro Media Audio Video has achieved technical excellence time and again, and in Europe, Eddie is looking forward to building further on this reputation. The new European headquarters will be located in Britannia Row Productions' London, UK, base. The establishment of an office in mainland Europe will be revealed in the near future.
Under Eddie's direction, Pro Media Audio Video EU will benefit from the knowledgeable backing of both the Clair Global family of companies and a considerable international distribution and dealer network.
Pro Media Audio Video General Manager, Ted Leamy, commented: "Each of the companies in the Clair Global group shares the same culture for quality and customer-focussed business ethos. Eddie shares our values and he is the person to carry this global standard into Europe.
Read the full article in issue 31.3 of MONDO-DR –
www.clairglobal.com/integration