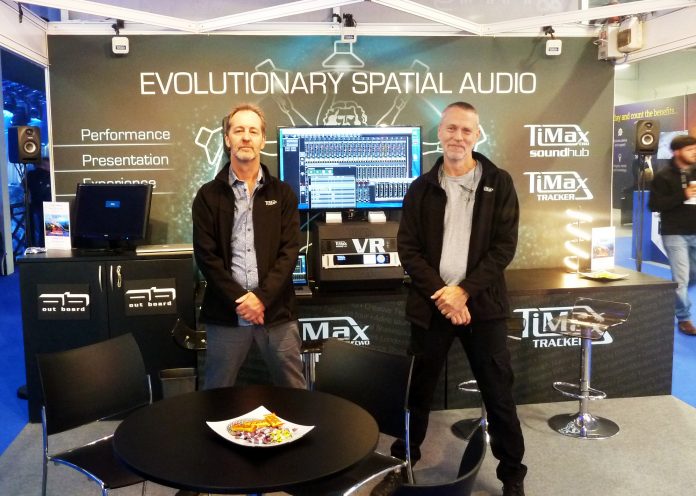 TiMax's UK developer, Out Board, is the global market leader in object-based immersive spatial reinforcement techniques. The company pioneered 'source-oriented reinforcement' during the 1990s and 2000s, and has evolved its TiMax systems to become the preferred choice of sound designers for authentically spatialised vocal and orchestral reinforcement as far and wide as New York's Broadway, London's West End, Europe, Scandinavia, Asia, and Africa.
Out Board's original founder, Robin Whittaker, started the business back in the mid 80s, finding his feet in the world of mix automation with a particular interest in music production, creating moving fader automation systems for studio and live consoles. During this time Robin produced a box called the 'Octopus', which had eight moving faders and a programmable routing matrix.
The spatial audio spark still remained unlit, but Robin explained a specific 'eureka' moment when he was invited to see a show in London's West End. "When I lived in London, we used to regularly get invited down to theatre shows," he said. "On this particular night, we had really great seats and the show started with a couple of acts singing acapella. My ears told me that once the curtain came up, they were going to be stood right in front of me. However, they ended up being at the other side of the stage!"
Robin recalled learning about the 'Haas Effect' 10 years earlier in his studio technician days. This was a concept developed by Dr Helmut Haas in the late 40s, which stated that when a sound is followed by another sound separated by a sufficiently short time delay, listeners perceive a single auditory event – its perceived spatial location is dominated by the location of the first-arriving sound. Robin reproduced Dr Haas' test in Manford Manor Studios, London, and realised that it was key to fixing the localisation issues he was noticing in theatre sound systems.
Out Board's TiMax solution works by combining upstage, downstage and cross stage delays in order to achieve localisation and timing parity between the sound waves from voices or instruments travelling through the air, and the sound waves from an amplified system. The use of spatial sound within immersive applications creates a sound field that emulates real-life and works to synchronise the senses. Psychological studies have shown that if there is conflict within the senses brought on, for example, by the amplified audio in a theatre production, this can trigger a stress response from the audience and even the performers. TiMax resolves this by spatially correcting the audio and focussing the loudspeakers using dynamic delay management.
The other half of Out Board's dynamic duo, Dave Haydon, joined the company in the early 2000s, having started out in technical and commercial roles at console manufacturers Midas and SSL. "I was subsequently working at BSS Audio, who were a big seller of digital delays into the world of theatre sound," he explained. "I was working on the Millennium Dome in 1999, coincidentally at the same time as Robin, and I became interested in the work he'd been doing with TiMax. It was in 2001 that we became co-owners after restructuring the company and TiMax started to break new ground."
One of the early regular outings  for Out Board was London's Royal Albert Hall, as it's annual Raymond Gubbay popular opera seasons was a landmark project that helped put the TiMax solution on the map. "The sound system had originally been designed with one centre cluster above the middle of the stage," said Dave. "Robin talked them into essentially 'exploding' that into smaller loudspeakers clusters spread around the room, and by doing this it really sounded like an opera, rather than an opera with a PA system.
"TiMax was driving all these loudspeakers independently with separate outputs. The stage was divided into 20 zones and the matrix delays were managed in real time as people moved around the stage," added Robin. "The localisation and resulting audience engagement this achieved revolutionised the show."
In 2008, the company developed a tracking system, which was originally put on as a trial at an ROH opera with well-known theatre sound designer, Bobby Aitken. After using the TiMax tracker system, he became a convert both for the operas and his other theatrical shows. "Prior to this you had to cue the show manually every time somebody moved," explained Dave. "This was resolved by TiMax Tracker and sound designers were saying to us that their focus was better because half of their brain wasn't concentrating on manually stepping through  cues, the tracking was taking care of all the movement."
Read the full article in MONDO-DR 31.4 –