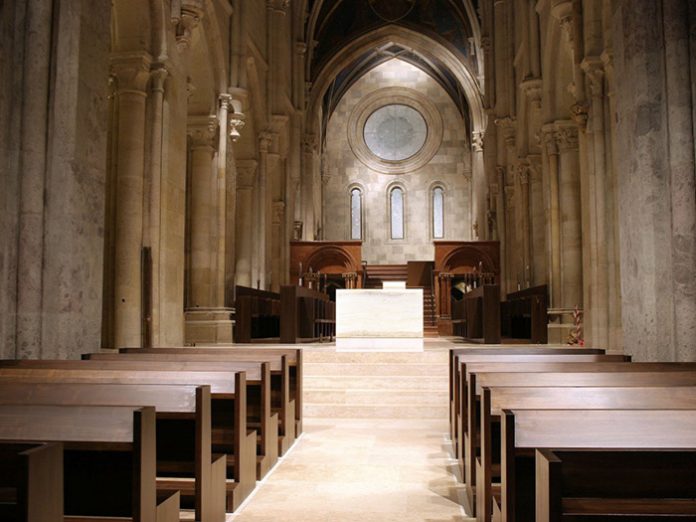 The Archabbey of Pannonhalma, a crowning achievement of the early Gothic style, was built at the beginning of the 13th century in the small town 100km outside of Budapest, Hungary.
Three years ago a thorough renovation of the church included an update for audio system with small speakers distributed within pews and lighting fixtures in accordance to strict architectural guidelines. Due to heavy flaws in the quality of installation and the need for higher levels, a new acoustic system was required at the next renovation. 
K-array distributor Audio Partner Ltd received an invitation to demonstrate a new system to provide even coverage and good STI throughout the church. After an onsite test was conducted during an evening mass to ensure the recommended K-array system was suitable, the final solution was determined to be eight KZ12W Lyzards, three KV50 Vypers and one KK102 Kobra powered by two KA1-1 units and one KA24 amplifier. 
The Kobra was installed near the side column of the altar, tilted down to the level of the nave. Two Vypers were aligned on top of each other and were installed on the side columns of the sanctuary while the other Vyper was installed near the font of the baptistery. Given their prominent location, the speakers were encased in a perforated brass structure to match the lighting fixtures and were driven with a KA24 amplifier. 
Running the length of the aisle, the Lyzards were surface mounted directly on the wall and were customized to match the color of the stones. The two KA 1-1 amplifiers were used to drive these speakers in 8 discrete channels. 
The signal processing chain includes EQs for each input and output and a delay matrix to adapt for the relative distances between the loudspeaker and speech positions, while automated mixing with customized manual override control provides ease of use. 
Thanks to the careful design and signal processing, the measured STI values showed 0.55 in the main area and 0.5 in the aisle when the church is empty. The even coverage was noticeable and much appreciated by the Abbey: "Changing the system has been a significant improvement both in clarity and loudness. And with the processing and the control possibilities, we can match coverage according to occupancy with no dead spots when fully occupied."