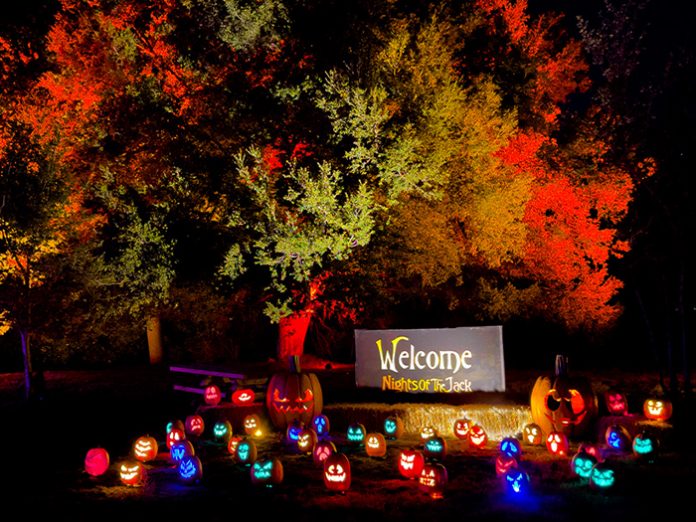 Following a necessary pivot to a drive-thru attraction in 2020, this year's Nights of the Jack Halloween experience returned to its original walkthrough format. Attracting thousands of visitors across its month-long run in October, the unique event featured thousands of hand-carved Jack-o'-lanterns arranged into a series of themed displays. ADJ IP65-rated LED wash fixtures were once again used to illuminate the attraction, while ADJ LED-powered ellipsoidals were utilized for the first time, serving as energy-saving alternatives to the conventional fixtures that were previously used.
Thirty miles northwest of Hollywood, tucked in the Santa Monica Mountains, Nights of the Jack is hosted at the historic King Gillette Ranch. Named after King C. Gillette, founder of the Gillette razor brand, who owned and developed the land in the 1920s, the King Gillette Ranch is a 588-acre site in the Calabasas region of Los Angeles that is now owned and operated by the Mountains Recreation and Conservation Authority. It is the perfect location for a celebration of jack-o'-lanterns as it is generally accepted that the name Calabasas is derived from the Spanish 'calabaza' meaning 'pumpkin', 'squash', or 'gourd'.
Nights of the Jack, which was created by Ben Biscotti, Bobby Rossi and Tony Shubert, features a 2/3-mile trail through the grounds of the ranch, decorated with intricately-carved jack-o'-lanterns as well as a variety of other Halloween-themed displays. CBC Technical – a full-service audio, visual and lighting solutions company based in Temecula, CA – has been responsible for supplying the lighting equipment and power distribution for the attraction since it began in 2018. Lighting Designer Michael Hoffman has also been involved with the project since its inception and ADJ's IP65-rated LED wash fixtures have always been the main fixtures in his lighting toolkit.
"The ADJ 12P HEX IP remains the chief lighting instrument used on this project," confirms Michael. "They are ultra-versatile, so I can use them for almost anything. This year we added another 25, making for a grand total of 225 fixtures! In addition to up-lighting trees and highlighting scenic elements we used them this year for lighting the front lot where the 'Spookeasy' bar and food vendors are located, which worked well. This project is definitely a testament to how durable the 12Ps are, as some of these fixtures were used on the first Nights of the Jack four years ago. Those instruments have been outside for four separate stints of a month at a time at Nights of the Jack – not to mention various other projects throughout the year – and are still going strong. I can honestly say we've not had a single loss of instrument. Two 12Ps did get run over last year but, to be fair, they still work – their casing is just a bit bashed up – they are rugged as heck!"
Featuring twelve potent 12-Watt HEX color (RGBWA+UV) LED diodes packed into a robust metal casing with a sealed IP65-rated design, the 12P HEX IP is a vibrant and dependable wash fixture that can be used in almost any conditions. It has a robust metal construction and is fitted with a versatile scissor yoke that can be used either as a hanging bracket or floor stand. With a 25-degree native beam angle, it is ideal for illuminating trees, walkways, scenic elements and much more. For applications where less output is required but size is a primary concern, the 7P HEX IP is a very similar product that features seven 12-Watt HEX LEDs built into an extremely compact fixture. 75 of these units were also put to work on this Nights of the Jack project, particularly used for lighting set piece scenic elements.
In addition to utilizing tried and tested equipment, Michael also integrated two new fixture types into his lighting design for this year's production. The first of these was the ADJ 15 HEX BAR IP, which is a linear wash from the same IP65-rated family of fixtures as the 12P HEX IP and 7P HEX IP. It features fifteen 12-Watt HEX LEDs spaced equally across its length grouped into five individually controllable sections. The fixture is supplied with an opaque diffusion filter which can be easily mounted above the LEDs simply by sliding it into a purpose-designed slot in the front of the unit. It is also supplied with an optional glare shield / hood, which prevents unwanted light spill when used as a footlight and can be easily installed on the top of the fixture using three thumb-tightening screws.
"The 15 HEX BAR IP was a really good addition for this year. It offers great coverage, making it ideal for lighting large areas, such as the façade of the main building. The color mixing is great and I was shocked by the efficiency of the UV output. After all, this isn't a UV cannon, but you get a really impressive UV wash. I used it for the UFO display to light 'pumpkin aliens' and background space rocks. Just a few of those fixtures on UV made the whole scene really pop and gave it a very nice 'other-worldly' look."
The second fixture type used the first time this year was the Encore Profile Pro Color. ADJ's 'next generation' LED-powered ellipsoidal fixtures were used to replace conventionals that had been used in previous years to project a custom 'Nights of the Jack' logo on the large building at the center of ranch as well as break-apart GOBOs on some of the walkways. Each loaded with a state-of-the art 250W 6-in-1 RGBWAL LED engine, these fixtures allowed for a significant reduction in power consumption without any compromise on brightness or clarity.
"I love the Encore Profile Pro Color," enthuses Michael. "It has a fantastic LED engine that is incredibly bright and the photometrics are awesome. I'd say it's around 30% brighter than any other LED ellipsoidal I've used. In the past a lot of my clients have complained about LED ellipsoidals, because they just didn't have the punch of conventionals, but that's not a problem I've had with the Encore Profile Pro Color. In fact, most clients don't even realize they are LED! I genuinely believe, especially considering the price point, you simply can't find a better product on the market right now."
As well as the 316 ADJ LED-powered lighting fixtures used to illuminate both the trail and its displays, Michael also put one of ADJ's atmospheric effect generators to use. He strategically positioned a Fog Fury Jett Pro inside the smokestack of the 'Nights of the Jack Express', a ghostly train pulling a cargo of brightly colored jack-o'-lanterns. Featuring a powerful 1450-Watt heating element and high-performance Italian pump system, the unit is capable of shooting a dry even blast of fog over 40 feet (12 meters) into the air. This can be colored by an array of 28 x 3-Watt LEDs (6 red, 7 green, 6 blue, 3 amber and 6 UV) which are arranged around the output nozzle. For Nights of the Jack, Michael programmed the unit to fire on a regular cycle which created the illusion of the train letting off steam and significantly added to the overall effectiveness of the scene.
"Night of the Jacks 2021 was a big success", concluded Michael. "I think everyone was just super excited to be able to get out of their cars and explore the trail properly! The client was very happy with the lighting again, and I think that every year this event is going to add more and more ADJ fixtures. Moving forward, we've talked about adding in DMX control on the back track so that I can do live color changing and also the possibly of using moving lights from the ADJ Hydro Series, which I've enjoyed working with on other projects. We're all excited to bring back Nights of the Jack in 2022 bigger and better than ever!"
In the meantime, having only just struck the lighting from this year's Nights of the Jack, Michael and the team from CBC Technical will soon be returning to King Gillette Ranch to setup for the 'Holiday Road' immersive Christmas experience [read about Holiday Road 2020 here]. Once again, hundreds of ADJ IP65-rated lights will be deployed throughout the site to illuminate a collection of holiday-themed displays in a wide variety of vibrant colors, further demonstrating the versatility and longevity of these workhorse fixtures.