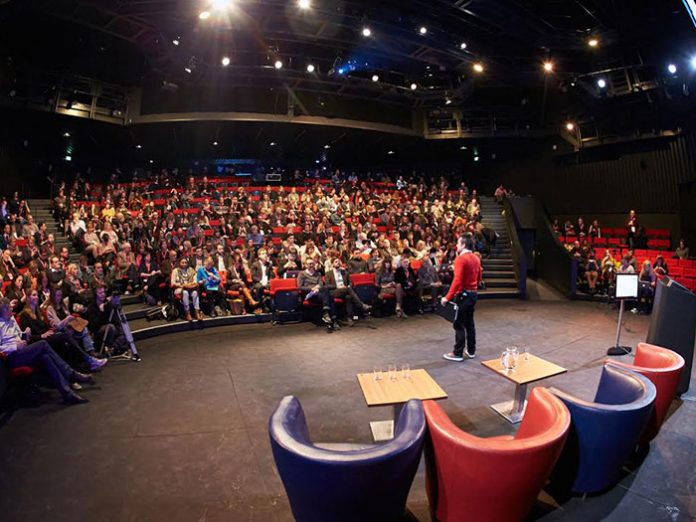 Autograph Sales has recently supplied the Hull Truck theatre in Kingston upon Hull with a brand new sound system from EM Acoustics based around the HALO-C compact line array to replace an older EM Acoustics system that dated from the theatre's previous venue.
"Since our new venue was completed in 2009 we knew that our old sound system was no longer appropriate for the space," explained Hull Truck's Technical Manager, Amy Clarey. "Our theatre boasts quite a long thrust stage for its size [a three-sided stage that extends into the audience] which, whilst great for the audience, is a challenge for all aspects of theatre-making, especially sound. We therefore needed a system that would be able to handle this configuration and at the same time offer us as much flexibility as possible as our programme is extremely varied. Our aim was to invest in a new system that lives up to and indeed enhances the rest of the production."
Another driving factor in the decision to renew the sound system was the fact that Hull has been designated the City of Culture 2017. Hull Truck theatre played a key part in winning the bid and will take a lead role in the planning and delivery of 2017. The theatre will lead the city's drama programme, opening up a number of exiting new partnerships and opportunities.
"With the eyes of the world on us in 2017, we wanted a sound system that could immerse the audience and truly make them feel part of the show – and that meant it was time for a change," said Amy. "Our previous system was EM Acoustics, and although we were really happy with the sound quality, due to the nature and size of the space in the new venue, it just wasn't packing the punch that we needed. We spoke to Autograph who arranged a demo with EM Acoustics. Mike Wheeler and Dave Kelland from EM came up and we spent a day in the space looking at our options. We spoke at length with them which was really helpful as they completely understood what we were trying to achieve."
The final specification comprised a centre hang of five HALO-C elements supplemented L/R by an MSE-159 with an EMS81X outfill underneath, four EMS-61 delays and two EMS118 subs. Power and system control comes courtesy of existing QSC amps and processing.
"We are really happy with our new system," concluded Amy. "The EM team were brilliant and have got it perfectly right for our unusual venue – we have precise, even coverage across all seats in the theatre. On the first day it went live we had overwhelmingly positive feedback from the audience and performers alike. We are very proud of the audio experience we can now offer our patrons and look forward to the many ways in which we can use it."