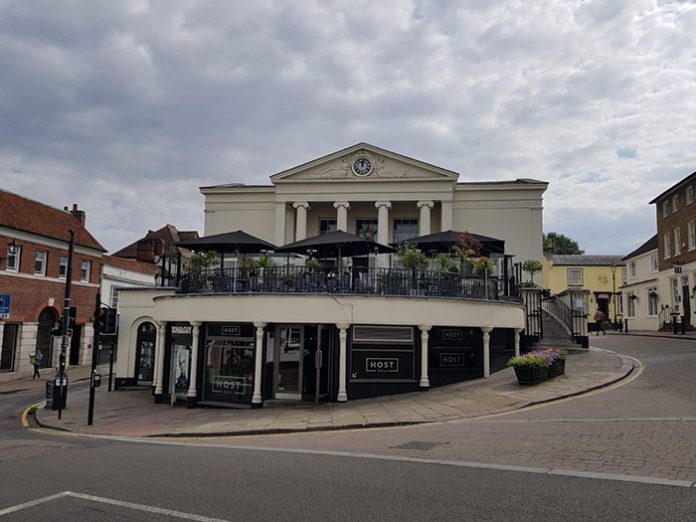 Audiologic recently updated Host restaurant and bar's Audio setup. Host which is located within Bishop's Stortford's striking Corn Exchange building decided a recent decision to refurbish and relaunch the venue was the ideal opportunity to evaluate the audio provision and its management team concluded that significant improvements could be made by replacing its existing system with a more flexible, zoned solution. 
Host consulted directly with Audiologic's technical specialists over the best way forward. Having listened to the requirements and taken careful account of the site, Audiologic prepared two designs using different brands at different price points and conducted demonstrations of both. Satisfied that they had found exactly what they wanted, the Host team settled on an Ecler solution and Audiologic recommended trusted partner AV Installations to install and commission the new system.
 Host wished to be able to deliver high-quality background music in two areas of the venue and authentic, powerful, club-quality sound to its nightclub dancefloor, whilst also maintaining overall control of volume levels in each area. A further requirement was that the system should be as visually unobtrusive as possible in order not to detract from the venue's attractive interior. The selected Ecler system comfortably met each aspect of the brief. Ecler's Arqis Series of speakers are designed to fulfil the requirements of permanent installations, where matching exceptional sound quality to the demands of interior designers is key. 
 In the nightclub area, AV Installations installed four Ecler ARQIS208 8" speakers and two Ecler ARQISSB15 subs, all flown, whilst in the areas for background music, four Ecler ARQIS106 6" speakers and two Ecler ARQISSB10 subs were wall-mounted. Powered by Ecler Essentials LPA2-950 (950W) and LPA2-350 (350W) stereo amplifiers, the system uses a fully programmable Ecler DAM614 digital audio mixer. Two Ecler WPmVOL-SR wall panel controls allow local control of volume and input selection and two Ecler WPmMIX-T wall panel micro-mixers allow remote audio sources such as talk-over microphones to be added. All cabling and racks were Quartex by Audiologic.
 Matt Dobney, Director at AV Installations was pleased with the outcome: "The Ecler equipment delivers really outstanding power and clarity. The speakers are positioned as discreetly as possible but they have great lines anyway and suit the look and feel of the venue. I know that Simon and the Host team are very happy with the solution and we always enjoy working closely with Audiologic to ensure that our clients get the best-fit solution for the project. Following the success of the project at Host, we presented this template to London's iconic Tower Bridge who accepted our proposal and are equally impressed with their Ecler system."
 Simon Cottam of Host Restaurant and Bar, commented: "The refurbishment prompted us to seriously consider how best to deliver audio within the venue. You can't underestimate the importance of great sound quality to customers. They won't stay if their ears hurt! Whilst excellent quality was essential, we were also keen to reduce the visual impact of any hardware on our carefully designed interior. We wanted something unobtrusive and I think we chose well. The Ecler system delivers everything we required, was installed quickly and is easy to operate."
 Andy Lewis, Sales and Marketing Director at Audiologic added: "For Audiologic, having good relationships with end-users has become an important part of our customer service delivery. We consulted closely with the Host team to determine exactly what they were looking for and then demonstrated some options. AV Installations took care of the install quickly and efficiently and the Ecler Arqis range proved, once again, to be an excellent choice."