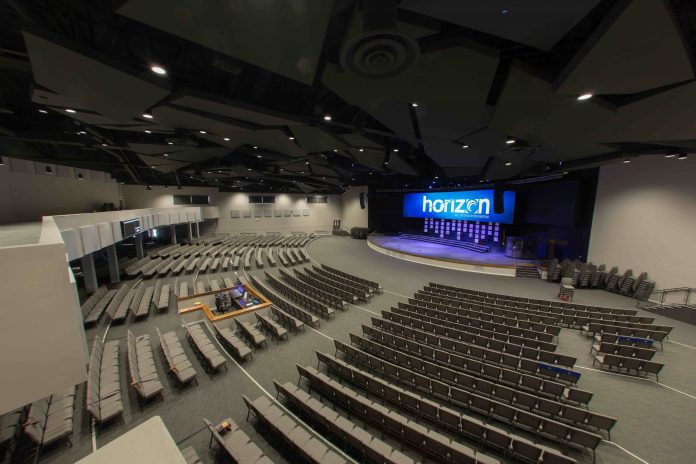 Horizon AVL, a full service systems design and integration firm specialising in systems for houses of worship, schools, stadiums and corporate campuses, has installed a Dante Audio over IP network from Audinate to accommodate all multichannel audio routing, distribution and management without the time and labor expenses of a legacy system.
A longtime Horizon AVL client, Fellowship Alliance Chapel recently relocated to a newly built house of worship in Medford, NJ. As a new construction, Horizon AVL had the enviable opportunity to design and integrate all audio, video and lighting systems to their specifications with the goal of maximising flexibility, capacity and quality across the entire architecture. On the audio side, Horizon AVL also had future growth in mind with the expectation that Fellowship Alliance Chapel would add square footage and additional channels to accommodate more worship services on campus.
Along with building out an extensive Dante network built to handle up to 64 channels of low-latency digital audio distribution, Horizon AVL added Dante Via to the mix. Audinate's answer to low-cost computer-to-computer networking, the forward-looking firm saw an opportunity for Fellowship Alliance Chapel to use Dante Via for moving Spotify streams and other digital music around the facility. Dante Via also cleanly integrates with Renewed Vision's ProPresenter 6 software, a PC- and MAC-based media and lyric presentation system that is popular in houses of worship.
"One thing we focus on at Horizon AVL is remaining on the cutting edge of technology, as changes happen fast," said Joshua Kell, CEO, Horizon AVL. "We want to offer our clients a way to seamlessly move forward with digital formats and technologies that allow them to accomplish more. When we looked at audio networking, Dante stands out as the most versatile option. They continue to add products and manufacturers under their umbrella. The list keeps growing and they continue to find new ways to add more channels, more equipment and more opportunities to the network."
Joshua points to the fact that Dante has addressed the desire to extend networking straight to the loudspeaker which not long ago was considered a long-term vision around the industry. Horizon AVL specified Dante from a front of house Allen & Heath S7000 mixer through to steerable line arrays from PreSonus which integrate Dante-enabled amplifiers to slim down the infrastructure. "This is the first line array to move beyond steerable FIR filtering for sound management and this is the first house of worship to integrate a steerable line array with Dante capability," said Joshua. "In fact, the only analog component is a legacy stage box that runs wire to the Allen & Heath S7000 and it's all digital from there including our Shure ULXD wireless microphone system. It doesn't move out of Dante."
This provides several benefits, beginning with Horizon AVL's integration work through to the weekly worship services using Dante to move audio around the campus. This includes a separate Allen & Heath GLD console used for live TV broadcasts that is fully Dante-enabled, eliminating the need for analog splits in the integration phase.
"We knew immediately that we wanted everything running over shielded Cat6A network cable to accommodate 4K video so we worked with the electrical contractors to run the appropriate conduits to house network cable for Dante and all video needs," said Joshua. "As we started running the cable to support the Dante audio network, it quickly became clear how much time and labor we would save. It would have taken three weeks to do it the conventional way, considering the soldering, testing, snaking and signal splitting required. With Dante, the total time to run the cables, punch it down, and configure the network and switches was well under a week, and that includes the consoles and other equipment on the Dante network. In terms of overall costs, we easily saved one-third the amount compared to the traditional way."
Beyond the flexibility of using the Dante network to route, distribute and manage audio, as well as Dante Via and Dante Virtual Soundcard to incorporate computer platforms into the mix, Joshua points to scalability and audio quality as two important benefits for Fellowship Alliance Chapel. For scalability, Joshua is only using about one-fifth of the 64-channel capacity for Dante signals in the Allen & Heath S7000, and expects to transition that mixer to a higher capacity 128×128 Dante card as more channels are added to the system.
"Before Dante, the Fellowship Alliance Chapel team was dealing with numerous problems that required continual work around adding transformers, isolating hum and managing ground noise," said Joshua. "That all goes away in the digital realm with Dante because phase grounding issues are eliminated all the way to the electrical panel. The speech and overall intelligibility through to the steerable line arrays is top-notch, you can hear every syllable and every nuance in the vocals and instrument. The clarity is there, as is the low latency that is important in live worship. It's night and day from their old sanctuary and they immediately were comfortable with how Dante can work in a worship AV scenario."