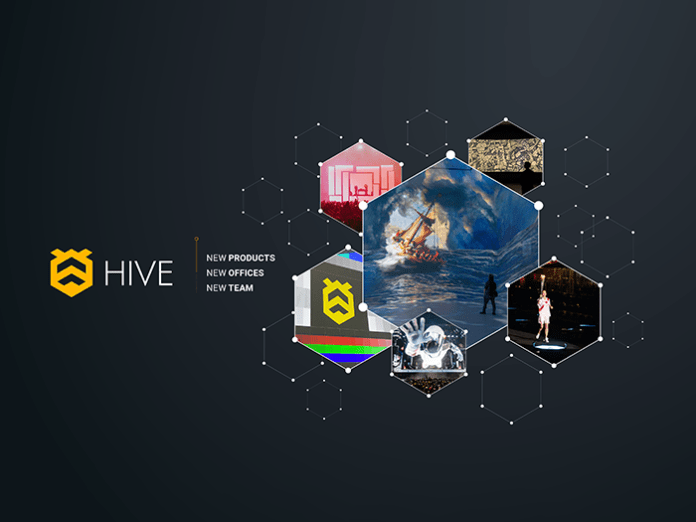 Known for its media control solutions, HIVE has announced the relaunch of its brand with a new look, a new website and the appointment of several new staff members. The relaunch comes at a significant time, as HIVE moves into a new 3500 square-foot office space in Horsham and expands its sales channels internationally.
Over the past few years, HIVE has established itself as a leading provider of video playback solutions, with a reputation built upon successful collaborations with industry giants such as Panasonic on projects such as Frameless London and the National Museum of Qatar.
"The re-brand reflects the new energies coming into HIVE, and our disruptive nature will become clear as we launch our most exciting product yet, which will be coming in the upcoming weeks," confirms Mark Calvert, Co-Founder at HIVE. "We want our brand to reflect our values, and this relaunch is all about aligning on our shared vision for the future of the media control market."
"After years of experimentation with small video devices, we've crossed the threshold where the amount of video processing power available in these small form factors creates incredible value," explained Trey Harrison, Co-Founder at HIVE. "We've brought on absolute top-tier talent to spread the word and help everyone transition to this new era of video control, and I'm very excited to be a part of it."
The upgrade of HIVE HQ has been pivotal for the brand's relaunch. The new office space spans 3500 square feet and occupies three floors, providing ample space for programming, assembly, sales, support, R&D, and projects. The new location in Horsham enables the HIVE team to expand its operations and offer better service to customers.
Furthermore, HIVE welcomes several new staff members to the team. James Belfield, appointed to the role of Head of Production, is responsible for all aspects of the assembly and production of HIVE products. "It is a great honour and truly exciting to be part of such an innovative, disruptive and forward-thinking team and company," says Belfield. His extensive understanding and knowledge of the customer base, alongside his long-standing and well-respected career within the events and creative industries, will add enormous value to the HIVE team.
Sarah Cox, the Business Development Manager, has over a decade of experience in real-time media servers and real-time graphics. With her extensive knowledge of the entertainment technology industry and emerging technologies, Cox's expertise will empower business development at HIVE. "Every now and then, a technology enters the entertainment industry, that defines a whole new standard and its impact changes the game completely," confirmed Cox. "The best match for any business development professional is working with the right product, at exactly the right time for the market. The time is now for HIVE, and I am thrilled to be using my experience to help them on the exciting journey ahead."
Finally, Kane Sargent who joins the HIVE team as Head of Support commented: "I feel grateful to be part of a company that places a high value on its employees, customers, and the environment," he said. "It's inspiring to work alongside a team that is not only passionate about creating a positive and collaborative work environment but also about minimising our environmental impact through proactive sustainability efforts."
HIVE's relaunch marks a significant milestone in the company's history, and the team is excited to embark on a new journey of growth and innovation. HIVE Co-founder, Dave Green confirms, "As our team expands to bring in new skills and new passion, I feel very fortunate to still wake up every morning eager to dig ever deeper into this project with such talented and inspiring friends, who make this journey such a wonderful ride."