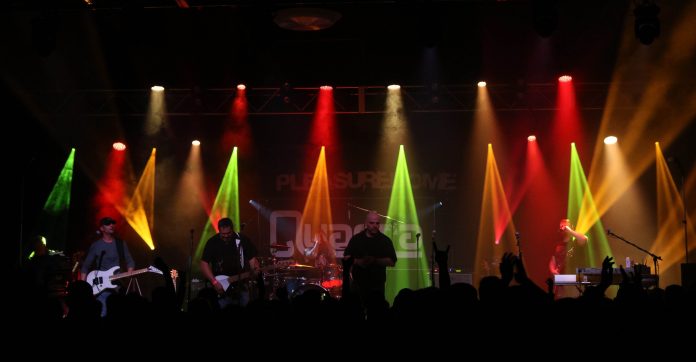 Vermont's largest city is built on a steep hill rising from an elevation of 95' at Lake Champlain to 300' by the time you reach the university district only a half mile away, where the appropriately named Higher Ground Music Hall is located. The cavernous venue has indeed taken the local music scene to new heights since it opened in 2004, bringing in national and international jam band, jazz and indie acts.  Recently, this rapidly rising music venue upgraded its house lighting rig by adding a collection of Rogue R1 Spots, R1 Washes and R2 Washes from CHAUVET Professional.
"The time had come to take the house rig to a new, more sophisticated level," said lighting designer Kyle Rose of KTR Recording and Higher Ground Music Hall. "We're seeing bigger and bigger touring acts perform here. Management wanted to move away from what was basically a traditional par can rig to something more up to date, so the touring LDs could integrate the house rig more successfully into their own lighting packages. More bands come with their own LDs today, so how well your house rig meshes with their gear has a good deal to do with how they feel about playing at your venue."
According to Rose, the 26 Rogue fixtures added to the Higher Ground house rig increased its flexibility, creating more options for touring LDs. "Many of the bands already had Rogues in their package, so there was instant familiarity," he said. "The color mixing on the R1 and R2 Washes gives them such a wider palette than we could have given them with the pars we had been using. Plus the wide zoom angles helps them do all sorts of creative things with the coverage area."
Rose installed 12 Rogue R1 Washes, six R2 Washes and eight R1 Spots on the house rig. The spots replaced older profile fixtures and have resulted in a much beefier output. "Most of the bands come in with some intensely bright fixtures in their package," he said. "If your house rig is weak, it really compromises the look of the entire show."
The 18 Rogue Washes in the new house rig are all flown on truss. Rose has positioned six of the R1 Washes on downstage truss, where they're typically used for front washing, audience lighting and spotting band members.  The remaining 12 Rogue Washes are flown on upstage truss and used primarily to wash the stage, while the eight R1 Spots are positioned on upstage truss and the deck and are used for a spotting and aerial effects.
"I wanted to somewhat mimic the old rig as far as coverage," said Rose. "At the same time though, being that these are all moving fixtures we have more freedom. Now we can set focus points without having to climb a ladder and adjust pars by hand. We installed a HedgeHog 4 to control the rig, and it's working out fine."
Along with adding to the performance features of the Higher Ground house rig, the new fixtures have increased its energy efficiency. "The savings that we could realize going with the LED fixtures was a huge reason why this project got through," said Rose. "Management could see a return on investment."
Also adding to the efficiency was the speed with which Rose and his team transitioned from the old house rig to the new Rogue rig. "Decommissioning the old rig was a huge challenge, as we only had four days between shows to pull out all of the old rig, sort all of the old and new gear, and rehang the new gear and get some house programming done before our first show with it," he said. "I couldn't have done it without the help of my team: Chris Friday and Alex Cort, Sean LaRock and Connell Gess."
In the end, though, it was done – and one of New England's up-and-coming touring venues now has a house rig fitting for its well-known guest artists.