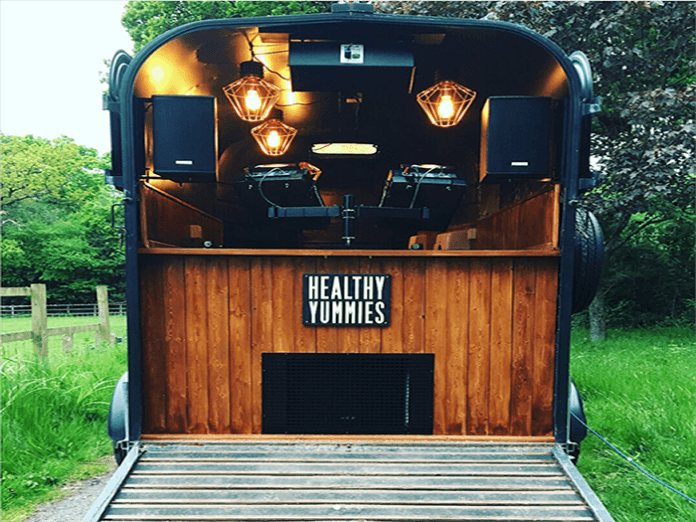 Healthy yummies, a creative catering company in Surrey, contacted Audiologic customer XSAV to create a mobile DJ booth and sound system in a converted horse box as background music is very much part of the Healthy Yummies brand.
Lee Michael of XSAV takes up the story: "When Nichola gave us the brief for the job, I knew exactly how to make it work and took care of designing an ergonomic system with clean lines that would deliver quality audio. I chose Ecler speakers for their quality, aesthetic and solid build – the system would, after all, be transported as an integral part of the horsebox and needed to be robust. With the assistance of carpenters from Stagecraftuk, the system was integrated onto and underneath a solid wood work station which fitted Nichola's 'rustic' preference."
Audiologic supplied XSAV with 2 x Ecler Arquis 110 speakers as the system's main mid/tops, complemented by a single Ecler Arquis SB15 sub. An Ecler Arquis 205 was suspended above the work station as a DJ monitor and the system is driven by Ecler Essentials amplification. The Ecler Arquis Series is renowned for its compact format, excellent sound quality, stylish aesthetic and reliability. It has become a firm favourite of interior designers who can take advantage of its attractive appearance without compromising on audio delivery.
Nichola Smith, Director at Healthy Yummies is very happy with the system: "We cater for the film business, which is pretty harsh and fast-paced we're sometimes feeding more than a thousand people on multiple sites. Music helps as a coping mechanism , so wherever we are, there's music. We install sound systems into all of our food trucks and even have a rig in our crew catering marquee called Degz – decks and eggs! A client who'd heard about this asked us to produce a small and nippy live system that could move around with a camera team and that's where the DJ Horsebox concept was born.
Lee continued: "The system sounds and looks amazing. Coming from a music background, Nichola knows a thing or two about sound and she's very happy with the set-up. We completed the whole thing in a day and as soon as we fired it up, we knew that the concept was spot on and that the Ecler Arquis system was an excellent choice. It just so happened to be a Friday evening at Healthy Yummies HQ and the test quickly turned into a dry run of exactly what Nichola and her team wished to achieve on location. Great sound, great ambience…great party!"
Paul Simpson, Hospitality Business Manager at Audiologic added: "I'm not sure if we've supplied the kit for a DJ Horsebox before but Lee from XSAV went straight for Ecler Arquis and judging by the reaction of his client, he made an excellent choice!"