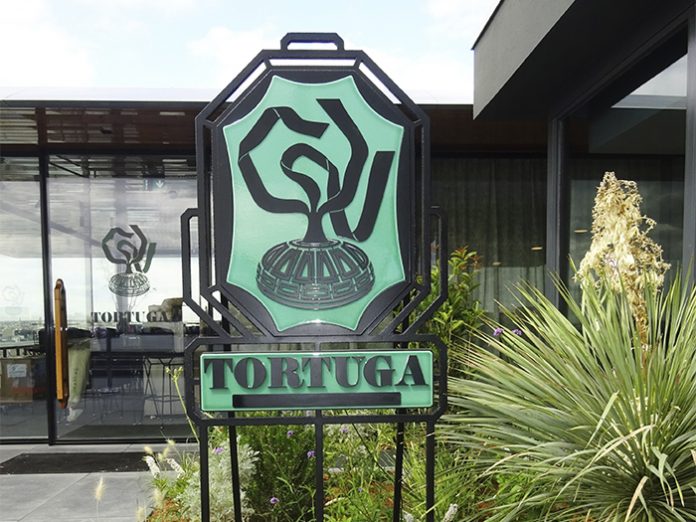 Virtually invisible, the tailor-made sound system for French restaurant, Tortuga has been perfectly integrated into a decor that invites underwater daydreaming; and to accompany the sustainable gourmet cuisine of chef Julien Sebbag. The acoustics of the room have been tuned to enhance the hip and cosy feel of the place by the use of first reflections only instead of reverberation.
On the audio side, in order to comply with various regulations of sound diffusing public places, a DSPecialists Harvey Pro processor ensures solid rock band limitation in accordance with impact measurements ensuring that occasional festive atmosphere won't disturb the surrounding neighbourhood of hotels and offices.
Prior to completing the design of this new Parisian restaurant, in-depth acoustical work was carried out in collaboration with architect Franklin Azzi, explained Antoine Hurtado, exclusive distributor of HARVEY in France, and head of the design office in charge of the restaurant's acoustics: "We suggested the design of a semi-reflective custom designed ceiling in order to avoid a room that was too "noisy" which is often the result of using materials such as concrete, glass or metal."
Specialized in high-end Hi-Fi solutions that blend into their environment, Eden de Vismes emphasised the originality of this rather unusual specification: "In the case of Tortuga, the architect had to integrate a festive sound system into an extremely refined project: all the walls were fully glazed, so no traditional speakers could be integrated. In addition, the architect wanted to keep his paneled ceiling completely pure. So we had to create a set of eight custom-made speakers, integrating the subwoofers, with a particularity of size: the emission is reduced on a surface of 120cm by 9cm, as well as the access for maintenance of the loudspeakers!"
A PA system is also present outside, where small line-array speakers fixed in the IPNs, supported by two waterproof subs of 15" are installed under the floorboards. In order to allow the rooftop to create a festive atmosphere if necessary – while remaining within regulations – a Harvey Pro processor from DSPecialists ensures that the signal remains in conformity with the legislation in force by integrating the wind lift.
Eden de Vismes sums up this first experience: "On this project, we discovered the Harvey platform from DSPecialists used here for the normative control of volume limitation. The installed processor ensures a clear and efficient daily management of band limitation."
Antoine Hurtado, who is responsible for the impact measurements and is particularly attentive to respecting environmental standards, explains the choice of the platform developed by DSPecialists: "It is essential to work with European manufacturers in order to follow and comply with the evolution of regulations and standards. The Harvey Pro processor offers high-quality sound signal processing, a wide choice of filters and easy network access with the "Bonjour" protocol. Multiband processing is particularly efficient, and the metrological precision is there. All of this gives reliable measurements, and all processes are ensured in a particularly low latency (<1ms)."