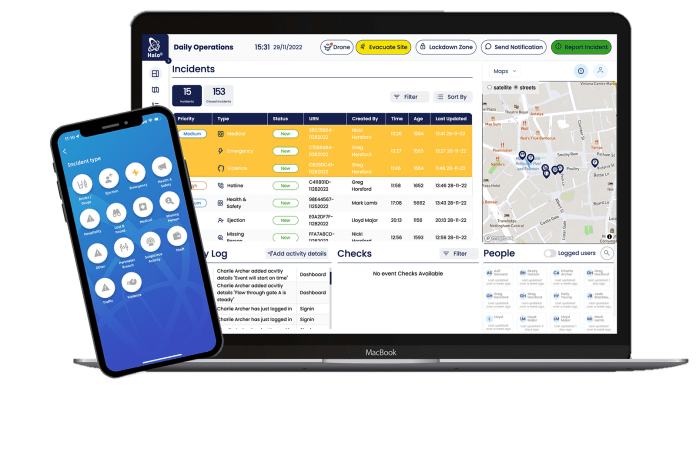 Halo Solutions, the British tech company behind intelligent crowd safety, incident, and threat-management platform Halo (v5), is to make its tech software available free of charge to tens of thousands of small businesses.
This includes pubs, live music venues, and entertainment spaces that are to be affected by the government's new counterterrorism (protection of premises) legislation, which will be committed to law this year.  
The move comes in direct response to the Manchester Arena Bombing inquiry which finally drew to a close yesterday.
Former Counter Terrorism Police officer, crowd safety and security expert Lloyd Major the founder of Halo Solutions, felt compelled to do something constructive and positive within the industry as the families of those who died in the terror attack called on the Government and the Police to act and ensure 'lessons are learned.'
Lloyd Major developed the award-winning crowd safety and security software following an extensive career in the Metropolitan Police in Counter Terrorism, as a respected guest lecturer at the College of Policing and as a specialist adviser to large-scale public events.
Halo is already being used extensively across large-scale events in stadiums and major sporting events across the world from F1 to Premiership football and rugby.
The entertainment and hospitality industry, which is still feeling the fallout from COVID-19, as well as the cost of living and energy crisis, is now bracing itself to see what extra costs and impact the new measures and legislation will have on public safety for its respective industries.
The move comes as the proposed legislation – also known as "Martyn's Law" – which has been drafted and read in Parliament, will see a raft of new measures aimed at ensuring stronger protections against terrorism in public places following the Manchester Arena terrorist attack.
Martyn's Law will require both public and private-sector businesses to ensure they have sufficient and robust security measures in place to uphold the "protect duty" and ensure public safety.
This means that thousands of pubs, restaurants, live music venues, arenas, stadiums, shopping centres, and entertainment complexes will be required to take much greater responsibility to protect and safeguard the public against a possible terrorist attack.
Halo Solutions has already been protecting the public across multiple sectors including major sporting and entertainment events, transport, universities, and other settings with its Halo (v5) software.
The company decided to make its technology available for free to small businesses and entertainment spaces where public capacity does not exceed 800 people, as per the legislation, in an effort to help them address the anticipated measures that are expected to come into force.
The Halo v5 software is available now by contacting Halo Solutions direct or via email hi@halosolutions.com and will also be available to download via the website from the end of July 2023.
Commenting on the decision to make the Halo System accessible for free, former police and counterterrorism officer Lloyd Major, Founder and CEO of Halo Solutions, said: "Making the entry-level Halo System available to all small businesses in the hospitality and entertainment industries is morally and ethically the right thing to do.
"It has long been a passion of mine to ensure that everyone could benefit from our technology to protect the public, right since the very first concept. The Manchester Arena bombing inquiry has profoundly affected many people, not just the families of those who died.
"All too often we hear that 'lessons will be learned' and very rarely does anything ever change. The families and all of those affected by this tragedy need to see positive action taking place and greater responsibility and accountability for the protection of the public against terrorism.
"With the tireless campaigning by Figen Murray OBE, the mother of Martyn Hett, to enshrine greater counter-terrorism protection in law for the public, we wanted to play our small part in helping to protect the public, the timing and purpose of this, as the enquiry closes, feels appropriate and right.
"Every year when we review our prices, this has been number one on the agenda and it's a terrific indictment of everything that we've achieved now we're finally able to do this, and I'm especially delighted to be the first in our industry to do it. 
"We've made our entry-level system available for free to assist those venues in taking the appropriate action to protect their customers and the wider public.
"Everyone benefits from having access to the Halo system, which strikes directly to our core principles and ethos of 'let's protect everyone'. Halo (v5) is already being deployed and protecting the public at some of the world's largest, most prestigious, and high-profile events, including the FIFA World Cup in Qatar (2022), Cricket World Cup (2019), British Grand Prix, Notting Hill Carnival/Glastonbury Festival and Miami F1 Grand Prix.
"Halo (v5) is also being used across a number of arena and conference venues across the UK, including The NEC Group, Motorpoint Arena, M&S Bank Arena and ExCeL London.
"The Halo system is also being used extensively at football and rugby stadiums, including Chelsea FC, West Bromwich Albion FC, Mansfield Town FC, Watford FC and Premiership Rugby clubs Harlequins and Leicester Tigers.  
Major added: "Now, every single small business owner and operator across the world – who has previously expressed to us that they really wanted to use Halo and could see its valuable contribution to crowd and public safety in their businesses – are no longer precluded from using our system because of cost.
"This is particularly important at a time when many of those small businesses in the entertainment and hospitality sector from pubs to hotels and live music venues are already struggling and being hit by both rising costs and legislation change.
"To have the benefit and peace of mind from using the Halo System to manage health and safety, fire safety, security, counter-terrorism and even cleaning risks, all in one platform, to protect against legal claims, insurance claims, audits and comply with existing and upcoming legislation is a huge benefit.
"Public safety is of paramount importance, connectivity is critical, and now we have made the Halo system available to all."
The Halo (v5) system acts as a central command and control function that operates from a standard laptop and can bring together more than 10 different systems integrated into one, with more than 75 client-led features.
It integrates monitoring and recording of multiple feeds of information across a venue, from crowd management, ticketing, crowd density, flow, sentiment, mood and capacity, to staff information, venue checks, security protocols and actions, integration of CCTV from drone and body cams, and health & safety protocols.
It means that when an incident occurs, all the actions, protocols and decisions taken by staff are recorded in one location for transparency and auditing purposes.
It also provides a valuable reporting mechanism on crowd safety, health & safety and incident logging.
This allows operations directors, event managers and venue owners to make informed decisions that impact public safety.
Critically, in the event of a major incident or terrorist attack, it can provide vital evidential data to support the decisions taken.
The proposed new law is expected to introduce new measures and responsibilities for business premises of a certain size to consider implementing additional security and safety measures to safeguard customers and staff.
It is expected that this will see a scale of measures, including additional security training for employees, new security systems and procedures in crowd safety, as well as introducing new lockdown procedures in the event of a terrorist attack to safeguard the public.
Lloyd Major, CEO of Halo Solutions, added: "The new legislation will make both private and public sector businesses much more responsible and accountable, to ensure stronger protections against terrorist attacks in public places.
"The actions and measures that both the public and private sector put in place to mitigate the risks of a terrorist attack in public places will also come under heavy scrutiny in the event of an attack.
"This could see event and operations directors, venue owners, operators and promoters being made publicly accountable for their actions and inactions in subsequent public inquiries and in some cases, allow for legal proceedings under this legislation or existing health and safety, licensing or corporate manslaughter laws."
Most recently, Halo (v5) played a crucial supporting role in keeping the public safe during "Operation Golden Orb", the counterterrorism and security plan devised by the Metropolitan Police for the Coronation of King Charles III and the coronation concert at Windsor Castle.
The coronation was the United Kingdom's biggest state event since the Queen's funeral last September, which Halo was also involved in.
Operation Golden Orb was also the single biggest security and policing operation that the Metropolitan Police had mounted in the capital in recent years, with more than 11,500 police officers and staff protecting 312 of the world's leaders and visiting dignitaries.
Working with private and public sector partner agencies, the Halo (v5) system has been monitoring and protecting critical infrastructure and transport links.
It was deployed to monitor crowd ingress and egress through places like Waterloo and Windsor train stations for both events.
Its primary function was to deal with crowd safety, incident management, and monitoring of security personnel and assets, as well as to implement counterterrorism prevention strategies, monitoring for suspicious persons, packages, vehicles, and baggage.