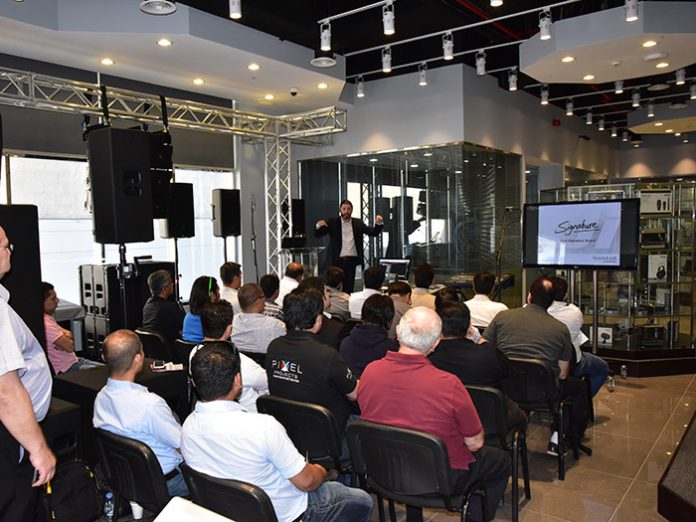 GSL Professional, the exclusive Harman distributor for the UAE, launched its new retail space this week. The prestigious event was held over two days and saw the launch of some exciting new products as well as business presentations and discussions.
For over 10 years, GSL Professional has supplied professional audio solutions for recording and broadcast, installation, retail and tour sound. With dedicated teams available to assist consultants and system integrators, their reference projects in the territory include some of the world's most highly regarded venues.
The new location has been thought out for the GSL Professional customers at every step of the way. The prime location puts them with their peers and in a perfect location for professional audio retail. The showroom is perfect for big demos and training with individual offices allowing for more private discussions with clients. The office space has additional training and presentation space with separate offices for each division.
The first day saw company leaders come together to hear the updates that GSL Professional and Harman Professional have been going through this year. Both companies have moved towards a more streamlined approach for the customer with some strong changes. There was also a solid company overview from Tascam followed by discussions on desired products and warranty support.
Day two consisted of a vibrant and buzzing day filled with product launches with guest presenters from both Harman and Tascam. From the UK, Sean Karpowicz, Product Manager for Soundcraft along with GSL Professional's Ibrahim Shishani, Broadcast Sales & Technical Executive, launched new mixing consoles from Soundcraft. Guests got detailed overviews on the Signature Series, UI Series and the Si Impact.
Next up was Yoichiro Hosoi, Manager of Professional Audio Business Unit at Tascam. Mr Hosoi had flown in from Japan to launch the DA-6400dp. GSL Professional is the only Tascam distributor in the world to have the product currently so interest was extremely high.
Continuing the Share the Knowledge campaign which the company unveiled earlier this year, the afternoon session saw GSL Professional GM, Sam Brandon and MI & Touring Sales Executive, Abboud Aljuneidi give a fantastic presentation on JBL EON Series, SRX 800 Series and the PRX 700 Series.
Faegh Fowzi, Managing Director of GSL Professional had this to say about the event "it was great to see so many of our valued clients at the event. This move is really about being able to offer them more. More support, more knowledge, more technical assistance and I am extremely happy about their positive response. Our clients are so important to us and I know we will be able to consistently improve things for them in our new location."