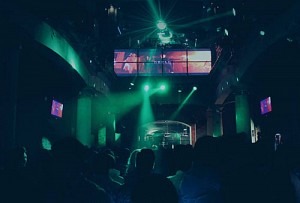 Grill nightclub has been in business for 29 years, located right in the heart of Guanajuato city, the capital of the state that carries the same name. It is one of the most crowded nightclubs in the area and its owners are always looking for different lighting and sound solutions to provide the best experience to those that get close to have fun in the Mexican nights. Audio Acústica y Electrónica, Powersoft's distributor in Mexico, has a tight relationship with Grill's owners, having provided services to satisfy some of their technical needs for the last 10 years.
It was during a visit to upgrade the lighting control when they talked about Void Acoustics sound system lines, a brand they got interested right away after listening to it live in some trips the nightclub's owners and partners did abroad and also a visit to Main Room nightclub in Mexico City where some Void systems have been installed. This is how they realised it was exactly what they needed for their entertainment venue. The decision was unanimous and the renovation of the whole audio system began after 15 years using an old one.
During installation, all the wiring and racks setup were done by different technicians hired by the nightclub under the guidance of Audio Acústica, while the loudspeakers assembly, presets configuration and fine-tuning were carried out by Audio Acústica's well-trained technical staff.
The new Void system for the different spaces inside Grill is composed of 4 x Air Motions, 8 x  Stasys Xairs, 7 x Air Vantages, 2 x Stasys XV2s, 4 x AirTens and 6 x Stasys 118s, amplified using 2 x Void Bias V9 and 2 x Bias VQ plus 2 x Powersoft M30D, 3 x M50Qs and one K10.
"We checked all the loudspeakers features while doing the system distribution project and carefully analyzed which amplifiers would give us enough power to work with them, that is how we went for a combination of Void and Powersoft amplifiers", said Mario Alberto Zaragoza, Technical Adviser at Audio Acústica y Electrónica. "For example, we used the M Series for monitoring and a small room together with the Air Tens, but also for mid frequencies together with the Air Vantages", he added.
The result was exactly what they wanted. "The client was extremely satisfied and the nightclub managers and technicians' expectations were highly exceeded. It was much better than what they had heard and seen in other venues, achieving the goal of having a Number 1 audio system. Without a doubt, the synergy we got by combining Void and Powersoft has led us to be more committed to provide the best solutions and be highlighted in our services. We are professionals working for professionals", he concluded.