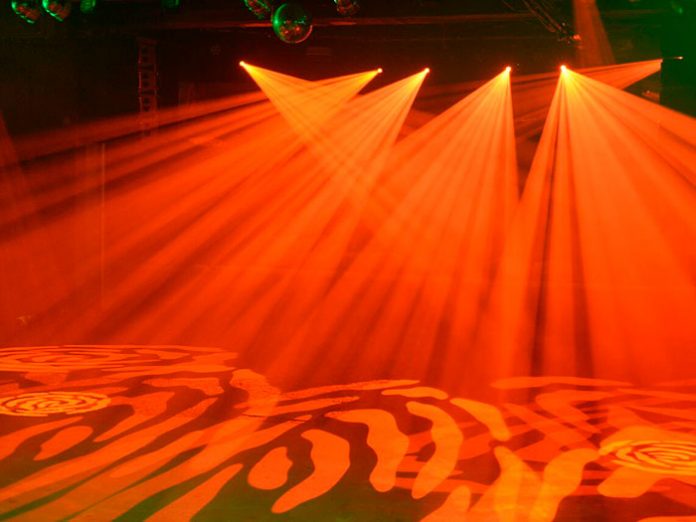 Even by the standards of chic East London, the new Wringer + Mangle club stands out for its pulsating atmosphere and high-energy entertainment. Making a critical contribution to both is a dynamic lighting kit fitted by GLS that features Chauvet Professional STRIKE 4 multi formatted fixtures and Intimidator Spot 350 movers from Chauvet DJ.
Luke Dwyer, Head of Programming at the Mangle, explains the decision to install four of the Strike 4s and 12 of the Intimidators was a no-brainer: "It was essential for us to create the look and feel of an exciting venue from the get go, somewhere which would really take people by surprise… To achieve this, GLS suggested a combination of Intimidator and Strike fixtures for a range of versatile and energetic looks."
Flown from overhead truss, the Strike 4 fixtures bring an added dimension to the venue, warming the space with classic tungsten dimming and strobe looks. "The Strikes are essentially several fixtures in one," states Dwyer.  "Depending on the situation, the Strikes provide excellent blinding, warm white wash or strobe effects. That tungsten effect just looks simply delicious to the backdrop of the Intimidators! They also work wonders to make the room look larger, without taking away from the sense of intimacy."
The team at Mangle were also appreciative of the smooth dimming curve of the Strikes fixtures. "It's absolutely essential to back up the classic tungsten look with a respectable dimming curve," explains Dwyer. "I'm happy to say that the Strikes don't disappoint on that front either. With this combination, we're able to give the artists on stage some classic set defining looks."
In addition to the Strike 4s, six Intimidator Spot 350s were flown from overhead stage truss. The remaining six Intimidator units are flown around the truss periphery to protrude over the audience, an arrangement that engenders even a greater sense of engagement.
"The Intimidator series have an impressive size to output ratio," said Dwyer. "Not only are the fixtures incredibly bright, the standard effects such as rotating gobos and 3-facet prism, give our visiting LDs and me practically limitless possibilities to create different looks. This definitely helps to shape the atmosphere of the various performances and club nights."
Given the fact that the ceiling height in the Mangle is somewhat tight due to the underground space, the compact 15″ height of the Intimidators leave ample headroom. "The great thing about the Intimidators is that they don't take up too much space at all thanks to their compact size," states Dwyer. "Even with relatively short floor to ceiling distance, the spots are able to output the prisms, gobos and saturated colours clearly and sharply."
GLS' installation of the Intimidator and Strike fixtures succeed in giving the Mangle high quality visual experiences, that one would expect from a much larger venue. "Thanks to our CHAUVET lighting rig the Mangle has all the tools to support any act with fantastic visuals". Concluded Dwyer. "As a result, we really believe that the Mangle is ideally poised to become one of the leading up-and-coming venues in East London."