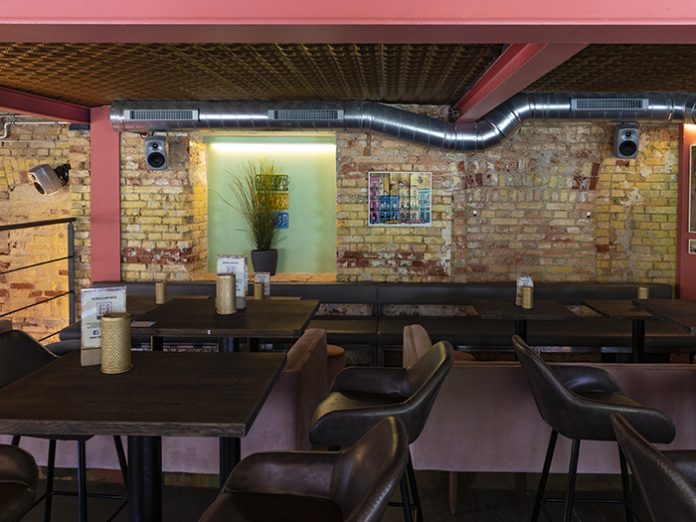 "Madam Cuba is a simple but classy lady. Her passion for sharing an authentic Cuban experience has created a new level of refined and delicious drinks and cocktails." So say the owners of the new Madam Cuba bar, ideally situated on the banks of the river Aarhus, which flows through the historic Danish city of the same name. Dedicated to the art of cocktails and conversation, Madam Cuba wanted a premium sound system to enhance the Latin vibes and keep their customers entertained until the early hours. Local pro audio specialist Thomas Vestergaard specified a Genelec solution based on the ubiquitous 4000 Series installation loudspeaker range, in the RAW aluminum finish.
"As a high-end bar serving a fabulous range of sophisticated drinks, Madam Cuba naturally wanted a sound system of the same caliber," remarks Vestergaard. "They weren't necessarily looking for a high powered system – the emphasis really is on an atmosphere where the quality of the sound combined with drinks and conversation all meld together for the perfect night. The keywords as far as audio is concerned were comfort and coverage. These are areas in which Genelec excels, so it was an easy choice. The gorgeous RAW aluminum finish – which looks amazing against the distressed brick walls of the bar's interior – was the cherry on the cake."
Vestergaard specified four powerful 4040s supplemented by a 7370 subwoofer for the DJ area in front of the bar, and nine compact 4030s with three 7050 subs for the mezzanine sofa/table area. Two compact 4020s in a bright yellow custom RAL finish keep the atmosphere alive in the rest rooms. Control is handled through a DBX zone controller running four zones with local control situated behind the bar.
"We decided on the 4040s for the DJ/bar area plus the sub, because even though the brief was for background sound rather than a full PA system, when the bar is crowded, the noise levels can be quite considerable. The sound system needs to make an impact above that, but without giving the impression that it's really loud and that you have to compete with it to make yourself heard," explains Vestergaard. "The 4040s are pretty powerful, but having the sub as well just adds a bit more bass extension for a really full, rich sound with bags of headroom to spare. The system is just purring rather than roaring."
For the mezzanine area, which is slightly removed from the bar, Vestergaard has opted for the same approach but slightly scaled down in terms of power. "The aim is that customers feel enveloped by the sound but not aggressed by it," he clarifies. "They should just be enjoying the atmosphere and soaking up the Latin vibes at comfortable levels for a fun night out."
"Genelec loudspeakers are an excellent choice for this sort of application," concludes Vestergaard. "They sound amazing out of the box, and the room response controls on the back offer further adjustments to tailor frequency response as required. The active design removes the need for bulky amplifiers and associated cabling, thus simplifying the installation process – always a plus – and finally the wide range of bracket options means that you can install them pretty much anywhere you like. They look as good as they sound, and the clients are invariably delighted with the end results."