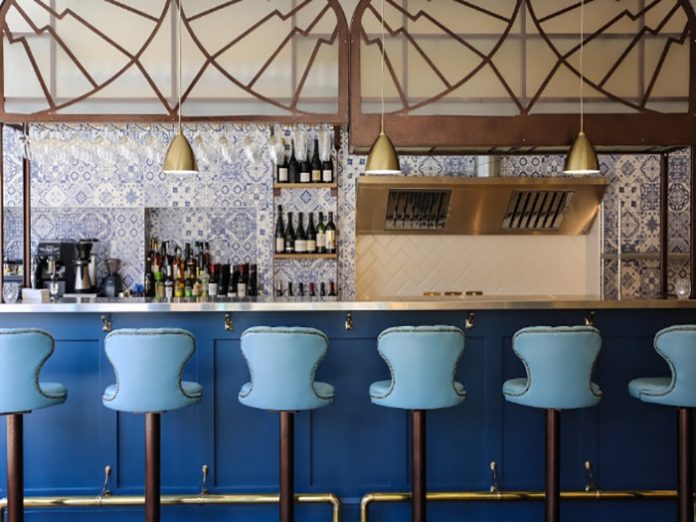 When Richard Tring opened Le Poivrot, an unmistakably French wine bar, on Colston Street in Bristol, it was in sharp contrast to his speakeasy-style Red Light bar, described as an "adult drinking den in the heart of Bristol".
Le Poivrot demonstrates an altogether different creative expression from Tring, who with his wife Sarah also owns Weber and Tring's wine and spirits shop in the city. Since opening night, a seat at the bar at Le Poivrot is much sought after, the impressive selection of wines, the surroundings and carefully designed decor encouraging lively conversation. It's fresh, much complimented and this "neighbourhood wine bar in the city" can without any hesitation, be described as an instant hit.
Whilst the definition of 'atmosphere' in any bar is for the most part subjective, lighting is perhaps the one element that makes the greatest contribution to supporting the vision of owners, architects and designers – get it wrong and all the best visible features of a project are compromised, do it well and everything is enhanced. Having enjoyed ten years in the trade, first as a highly skilled bartender in a number of top venues and now as an owner and developer, Richard Tring has a forensic knowledge of the trade and the creative spark to know what works. To help realise his vision for Le Poivrot, Richard engaged the services of Bristol-based designers, Out of The Woodwork Designs, with whom he already had a good working relationship, to design and manage the entire refit. Out of The Woodwork, in turn, consulted with GDS over lighting provision for the project.
The project team wished to combine exquisite detail and an understated old world charm to create a unique, individual style for Le Poivrot. The venue has large front windows that allow in much natural light but Le Poivrot remains open until midnight at weekends and so needed a scheme that could vary from very light daytimes to an atmospheric evening scene. This also required that different areas of the venue could be simultaneously lit at different levels. Virtually all the interior pieces were custom designed and bespoke made by Out of The Woodwork and whilst the lighting required subtlety to fully enhance the atmosphere, it needed to be practical in the kitchen area. Since Le Poivrot is not a large site, care had to be taken that the higher output kitchen lighting did not spill into the main customer areas. The highest quality dimming was considered essential.
Le Poivrot was entirely lit using GDS ArcPro and ArcDecor ArcSystem products. GDS prepared and supplied Dialux reports for the site, enabling the team to tailor each detail to achieve the specific outcome required. The separation between the kitchen (higher lumen level but narrower spread) and customer areas was achieved seamlessly with no compromise. ArcPro MR16 2700K recessed (adjustable and fixed) fittings were used throughout for general lighting. ArcPro Lamps (candle, clear) were used for specific areas of the walls, bar and windows, with ArcSystem Decor LED Strip and GU10 lamps completing the picture for the kitchen and toilet areas. The system is wirelessly controlled by means of GDS's ArcMesh protocol via an ArcPro 8 button panel and was commissioned by GDS technicians.
Louis Eastman from of Out of The Woodwork offers this assessment: "GDS was a pleasure to work with and I think that together we have delivered a stunning example of how important a lighting scheme can be. It is so often overlooked during a build with the result that however much emphasis is placed on an interior's fixtures and fittings, the results are never quite what they should be. At Le Poivrot, the client is very happy with the feel and finish of the whole scheme. Although brand new, it has a subtle, opulent quality that creates the impression of something that has been in place for 50 years or more – there's a coherence and atmosphere that creates a fantastic place in which to relax. The investment in the lighting was substantial but its aesthetic benefits far outweigh the costs and it's worth pointing out that the efficiency and longevity of the GDS LEDs will offset the initial expense over time."
Richard Tring is delighted with the outcome: "We'd worked with Out of The Woodwork on our other bar and knew that we collaborated well together. Louis and Alex have a natural flair for understanding our creative ideas, improving on them and making them a reality. GDS was new to us but came highly recommended and we found them excellent to work with. GDS went out of their way to ensure that we were 100% happy with the finished product.  Considering how picky we were and taking into account the size and nature of the space, both GDS and Out of The Woodwork showed both patience and flexibility in equal measure. We're really happy with the end result. It's not often you can achieve exactly what you set out to do without compromising on style and quality but that's exactly what Out of The Woodwork and GDS achieved for us with flying colours."
Matthew Lloyd, Sales Director at GDS added: "This project serves to illustrate just how flexible and adaptable GDS ArcSystem can be, playing its part in the creation of a special venue. It's not always straightforward to represent a very personal, singular vision but at Le Poivrot, working closely with Richard and the Out of The Woodwork team, I think we've managed to do just that. Choosing fixtures from both the Pro and Decor ranges enabled the very precise aims of the project to be met without any compromises. Le Poivrot looks and feels great!"