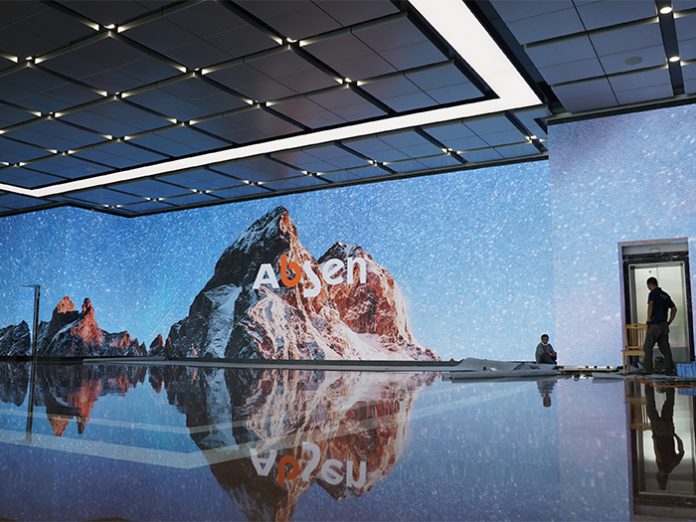 More and more technology companies are using LED video wall technology to present their commitment to innovation and enhance their business. The combination of cutting-edge display technology and creative digital content can deliver unforgettable visual experiences and take the corporate image to the next level.
Most recently, Galanz, a leading Chinese manufacturer of intelligent, multifunctional home appliances, installed two impressive LED video walls; one inside and one outside of its global headquarters and factory building in Guangdong Province, China.
Inside Galanz's corporate lobby at its factory in Zhongshan city, there is an over 160m² seamless LED video wall that stretches from floor to ceiling, which features Absen's KL 2mm product. The massive LED wall is made of five LED displays, with the main screen measuring 5m by 16m and four screens measuring 5m by 5m and 5m by 3m. Used for playing brand content and customised 3D content, the Absen video wall turns an otherwise passive space into a highly interactive and dynamic environment that will engage customers, employees and partners from the moment they enter the door.
"Galanz is a well-known local technology company," said Absen project manager, Kenny Yan. "The massive display was installed on the ground floor in the lobby area to achieve maximum impact when visitors enter the company's factory showroom. The customised video wall playing creative content like 3D waves creates a real 'wow' effect and helps to show off the company's innovation capability."
As a fixed indoor product, Absen's KL series delivers a perfect balance of excellent visual performance, ease of operation and affordability. Ranging from 1.5mm to 3.9mm pixel pitches, KL is well suited for a wide array of applications, including corporate, retail, hospitality, government, transportation, and other indoor environments.
At its corporate headquarters in Foshan city, Galanz chose Absen's DooH technology for a massive, bespoke, outward-curved display to showcase its corporate image. The 800m² outdoor video wall was mounted on top of its office building and is used for playing brand content and innovative custom 3D content. Overlooking the industrial park, the LED display operates day and night, making it unmissable for visitors and passers-by.
The DooH installation for Galanz measures 57m by 14m, featuring a 6mm LED display from Absen GS series. The GS series delivers excellent visual performance thanks to its high image quality with a wide colour gamut of 110%, outstanding brightness and contrast ratio of 3840Hz. GS is capable of maximising engagement by offering dynamic and vibrant messages even under direct bright sunlight. This rugged IP65 display also boasts waterproof design, which is coupled with a unique heat dissipation system, making it a reliable DooH solution that is able to withstand all kinds of weather conditions and climates.