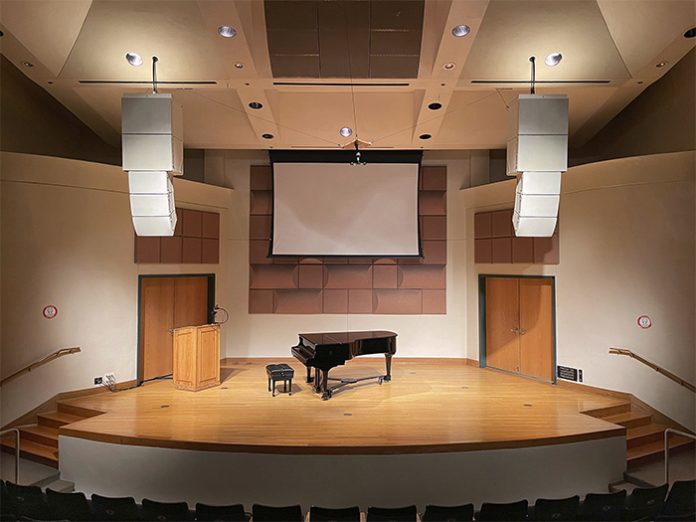 The acclaimed Frost School of Music at the University of Miami in Coral Gables, Florida has a rich history, stretching back nearly a century to the campus' founding in 1926. Today, it is widely regarded as one of the nation's most innovative and comprehensive music schools.
Located within the L. Austin Weeks Center for Recording and Performance, the intimate 147-seat Victor E. Clarke Recital Hall is a familiar venue to all of the nearly 700 students currently enrolled. Used daily for recitals, concerts, and ensemble performance, the room was designed with variable acoustics by noted acoustician Charles Bonner so that a wide range of music could be performed with optimal listening and recording conditions. Now, to accommodate the growing interest in electronic music studies and performance, the school called upon Unreal-Systems, an L-Acoustics Certified Provider for installation and rental (CPi/CPr), to install a new A Series loudspeaker system in the hall.
"Normally, a venue of this size would be purely an acoustic space, but the Frost School has been moving toward using Clarke Hall for more contemporary music, including their computer music ensemble, which has a focus on electronic music production," said Unreal-Systems Project Manager and Lead Systems Engineer Ross LaBrie. "They required a fairly robust PA option, but also requested that we not have any subs on the ground level, which meant that we needed an arrayable PA with subs over the main enclosures. By modeling our options in L-Acoustics Soundvision, A10 paired with KS21 quickly proved to be the right solution to fit the school's fidelity, coverage, and budgetary needs."
The hall's new loudspeaker system features left and right arrays of two KS21i subs over two A10i Focus and one A10i Wide, all finished and screened in a light RAL custom colour to visually minimize the presence of the hangs. An additional A10i Focus is also hidden in a ceiling cavity between the arrays to deliver centerfill coverage to the middle seats in the first few rows. Onstage, the school has the option to deploy up to six coaxial X12 wedges for monitors, and both the monitor and FOH setups are collectively powered by four LA4X amplified controllers.
"With Clarke Hall being a somewhat narrow space, it was important to keep energy off of the walls, and the adjustable louver feature of A Series was very helpful in achieving that," shares Unreal-Systems Owning Partner and Head Systems Tech James Tejada. "By controlling the directivity of the high-frequency elements, we were, in turn, able to push more sound pressure level to the back of the room for a really smooth and cohesive SPL from front to back."
LaBrie further cites the A10/KS21 combination as being "extremely impressive," especially when considering the obvious difference in driver sizes. "There's quite a discrepancy between the 10-inch driver of A10 and the 21-inch one found in the sub," he describes. "But the two marry together very seamlessly to create a system that covers the full spectrum evenly and beautifully from a very small number of enclosures."
Few people spend as much time in Clarke Hall as Dana Salminen, who has served as Frost School's Director of Production Services for the past five years. For him, the choice of L-Acoustics was "a given" right from the start. "I've used L-Acoustics rigs on many shows, big and small, for most of my career," he says. "It's always one of my top choices on my riders for its clarity, punch, and detail. If I have an L-Acoustics system on my show, my mind is at ease. So when the time came to put a loudspeaker system into Clarke Hall, I knew that they would be ideal for the job.
"We have a large variety of performances in the hall—ranging from solo piano, to opera, to jazz, to contemporary music—so our goal was to choose a loudspeaker system that would visually meld into its surroundings but still provide the amplification needed for such a wide range of genres," he says. "Our requirements were to offer reinforcement that could transparently augment a jazz performance, but still push high SPL and clarity for a rock band, or the sub-bass of our electronic music ensemble. On all counts, the A10 system delivers.
"Since the new arrays have been in, I've heard many students and faculty members comment on how incredible the room sounds. With just a couple of small hangs and a single center fill, we get fantastic coverage throughout the space and almost no spillage onto the stage, which would normally cause a feedback disaster with so many acoustic instruments and vocals in close proximity to the PA. It was also a real treat to work with Unreal-Systems, who went above and beyond in all aspects, including working after hours to not disrupt classes and rehearsals. And they've provided us with an incredible L-Acoustics system that is versatile enough for any genre, visually discreet in the venue, and will be relevant and useful here at Frost School for many years to come."