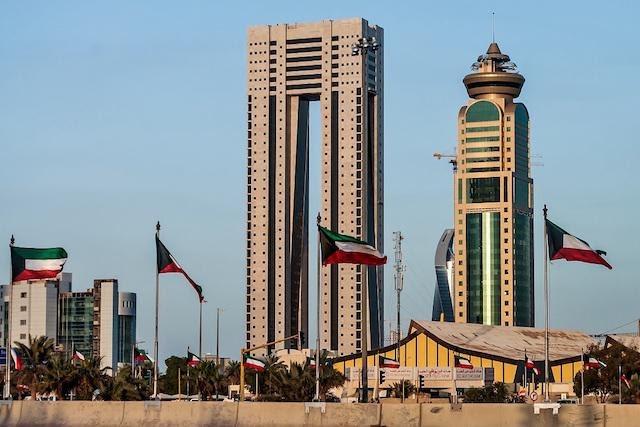 Boasting 284 luxurious guest rooms, five exclusive restaurants and one of the most prestigious brands in international travel, the Four Seasons Hotel Kuwait at Burj Alshaya opens its doors this month after more than a year of eager anticipation. Located in the heart of the city's government and business district, the five star hotel forms part of the Burj Alshaya mixed-use development, comprising two glass skyscrapers with the Four Seasons located in the 22-story Eastern Tower. The complex is also home to two spectacular ballrooms complete with digitally steered sound courtesy of Renkus-Heinz.
Located on the ground and first floors respectively, the Al Mirqab Ballroom and Al Bidaa Ballroom are already booked months in advance for a number of society weddings and special corporate events. Each has its own defining characteristics, though slightly smaller, the Al Mirqab Ballroom allows direct access to Al Soor Street while the Al Bidaa Ballroom is larger with natural daylight. Both represent multi-purpose spaces that can be adapted to suit the requirements of users. Either room can be divided to form two smaller, distinct spaces.
Not surprisingly, the two rooms both also represented challenging acoustic environments. "On the first floor, the biggest ballroom, Al Bidaa, has a ceiling height of around 27-feet and a length of around 150-feet, a long space," explains Joseph Neeruda, Technical Manager, Integrated Solutions Division, for aDawliah Electronics, who managed its installation. "The room also has an abundance of glass and reflections were a problem." On the ground floor, the smaller Al Mirqab Ballroom proved itself a slightly friendlier environment with a depth of around 115-feet and a ceiling height of approximately 22-feet. Nevertheless, both spaces presented longer than ideal reverberation times.
To solve the problem, aDawaliah Electronics chose Renkus-Heinz IC Live digitally steered column array loudspeakers. Both ballrooms are equipped with the same configuration of six wall-mounted ICL-FR columns, facilitating different modes of operation. Two of the columns serve as a left-right solution firing down the ballroom as a whole providing coverage for events that utilise the space in its entirety. The remaining four columns are mounted along the side wall, firing across the room so that when each ballroom is split they become separate left-right systems for the two resulting smaller spaces.
In total, 12 IC Live columns have been installed across both rooms, providing digitally steerable sound to ensure the best possible results. In particular, says Joseph, "We ensured that the beams were aimed not towards the reflective surfaces but the carpet below. We chose Renkus-Heinz for the brand's beam steering expertise and we were not disappointed. Renkus-Heinz is no doubt an excellent product and the sales support we have received has been very good."
"The system is well designed and works particularly well with the option to split the ballrooms into smaller spaces," adds Renkus-Heinz Middle East Sales Representative, Norbert Bau. "When we participated in the final tuning and commissioning, the client told us how happy they are very happy with the final result."
"The ballrooms are large, impressive spaces and they required powerful speakers with excellent directivity," sums up Joseph. "That's why we chose Renkus-Heinz – for power and high technology at the same time."