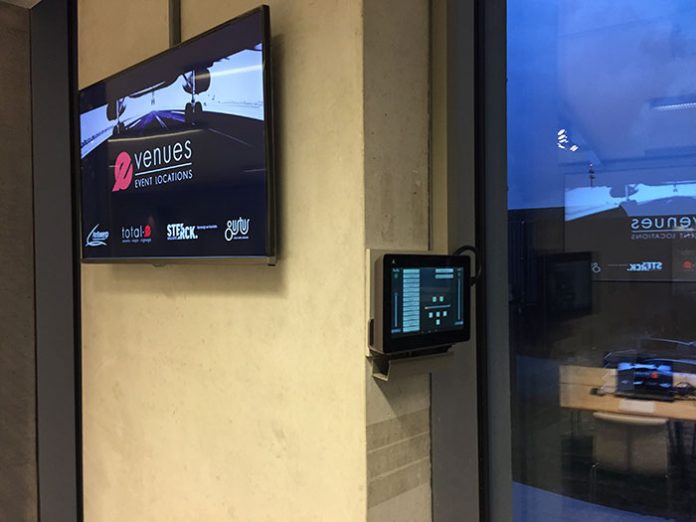 13 April saw the inauguration of a brand new terminal at Antwerp airport in Belgium complete with a dedicated conference/reception space equipped with the first Liviau R all-in-one control platform from Apex.
E-lounge is a brand new, modular conference/reception space situated on the first floor of the new 700 m2 e-terminal at Antwerp airport dedicated to private planes. E-lounge can host anything from conferences to corporate dinners, drinks receptions and product launches. Depending on the configuration of the 220 m2 room, e-lounge can welcome up to 150 people. The space is well equipped for conferences and presentations etc. with a Sony VPL-FX30 projector, three 42-inch LED screens and a 60-inch LED screen from Samsung, four circuits of RGB LED spotlights and six Audac XENO 6 2-way full range loudspeakers, all of which are run from the new Liviau R control platform from Apex.
Raymond Haeck from Total-e, owners and system integrators of the new e-terminal, explained why he opted for Liviau R: "I was looking for a small, discreet and easy-to-use device capable of controlling video, sound and lighting. I researched all sorts of solutions, but to cut a long story short, Liviau R was the one device that fulfilled all of my criteria, and at a very attractive price point. Other solutions were often either too complex, too expensive (or both), or would only handle a part of what I was looking for. Liviau R did everything I needed from just one small, highly aesthetic touchscreen device. What's more, it turned out that the solution was right next door – Apex's offices are literally only a few hundred metres away from our own! It certainly made it very easy for all the initial demos and then the fine-tuning afterwards. Liviau R is perfect for our needs and I'm delighted with the results."
Specifically, Liviau R is being used for internal storage of video and the ingenious MirrorOp app is used to switch between sources (laptops, mobile phones etc.) for projection onto one or all of the screens. In terms of sound, thanks to its built-in 50W amplifier which runs the Audac loudspeakers and sophisticated, professional grade mixing and processing, Liviau R provides background music from its internal music library or an external source. There are also two microphone inputs for speech reinforcement. As for lighting, Liviau R is used to dim the lights as well as offering DMX control of the RGB LED spots.