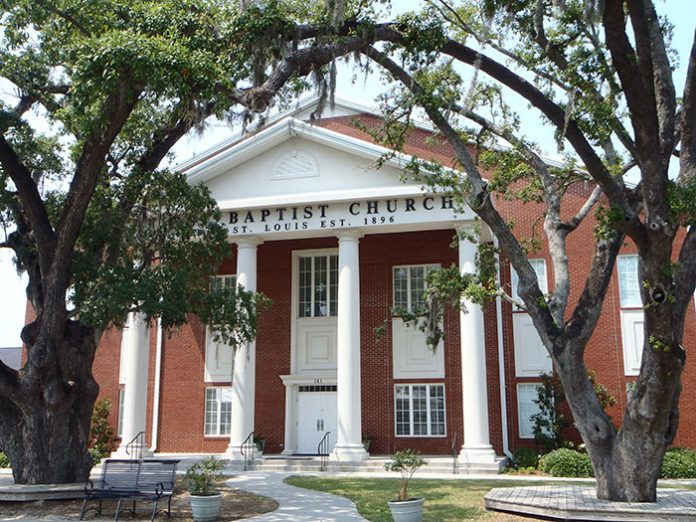 Engineered Lighting and Sound have recently been called upon by the First Baptist Church of Bay St. Louis to design and build a new sound system based on Renkus-Heinz IC Live-series digitally steerable loudspeakers.
"The auditorium is essentially a 75 by 75 ft box with a 25-foot ceiling, and it's fairly reverberant," explained Engineered Lighting & Sound Owner Eric Ross. "We needed to cover a balcony in the rear, as well as the floor seating, with one set of speakers that we could conceal. With a conventional speaker, we'd have issues with reflections. With a standard line array, we'd have to put the speakers at ear level, and the array would be visually intrusive, even if painted. But with Renkus-Heinz's digitally steerable arrays, we could place the speakers high up off the floor and aimed down, steering the bottom beams to cover the main auditorium floor. With steered beams, we did not have sound bouncing all over the place, and we could split the beams to cover the floor, the balcony, and the area under the lip of the balcony, back to the rear wall. It works great!"
For the mains, Eric chose a pair of Renkus-Heinz IC Live ICL-FR-DUAL digitally steerable loudspeakers, mounting one on each side of the stage. The ICL-FR-DUAL employs five 6.5-inch cone transducers and three 1-inch high-frequency compression drivers in a slim enclosure that's easy to conceal. "In addition to the praise band, the church hosts concerts by major acts that require systems capable of high sound-pressure levels and lots of bass," related Eric. "The IC Live series provides that extra punch."
Eric also installed a pair of Renkus-Heinz CFX218S dual 18-inch subwoofers. The CFX218S is a high-impact, high-level subwoofer capable of 132 dB SPL, and a pair of them easily delivers the low frequencies required for concerts. "CFX218s have a frequency response down to 32 Hz, so the system can faithfully reproduce the bottom end of the grand piano and the church's 1960s-vintage electronic organ, as well as deliver bass for the bands," he noted.
One challenge with the install was hiding the mains and subwoofers while delivering unimpeded sound and providing a quality projection screen. "The worship team was projecting images onto the wall up front, and next to that about eight feet up were some unattractive organ speaker grilles they wanted to get rid of," Eric recalled. "So I ordered custom, cinema-type Da-Lite projector screens made of perforated material that allows sound to penetrate. We mounted the main speakers and subwoofers behind the projection screens, and we took the old grills out. Then I did a bit of carpentry for the wall side of the line array. I put some wood there and mounted the subwoofers, so it's like an extension of the wall into the mounting hole. It almost looks like a horn. That keeps sound from disappearing back into the mounting holes, and the main speakers and subwoofers are completely invisible to the audience."
Behind the stage is a low choir loft, with the grand piano at stage right and organ at stage left. To cover this area, Eric chose a Renkus-Heinz VARIA VAX101-22/12 modular point-source line array. The VARIA offers a 22.5° vertical by 120° horizontal dispersion and features Renkus-Heinz' proprietary progressive waveguides, which create a narrower pattern at the top, tapering to a wider pattern at the bottom. "The VARIA fit perfectly in the original speaker cluster position," explained Eric. "The narrow vertical dispersion prevented splashing on the rest of the platform, and the horizontal dispersion let me use one cabinet where I would otherwise have to use several."
Of course, for any contractor, what matters most is the client's opinion. "The people at First Baptist Church absolutely love their new Renkus-Heinz system," Eric enthused. "The praise band loves the way they sound. Everybody is delighted."