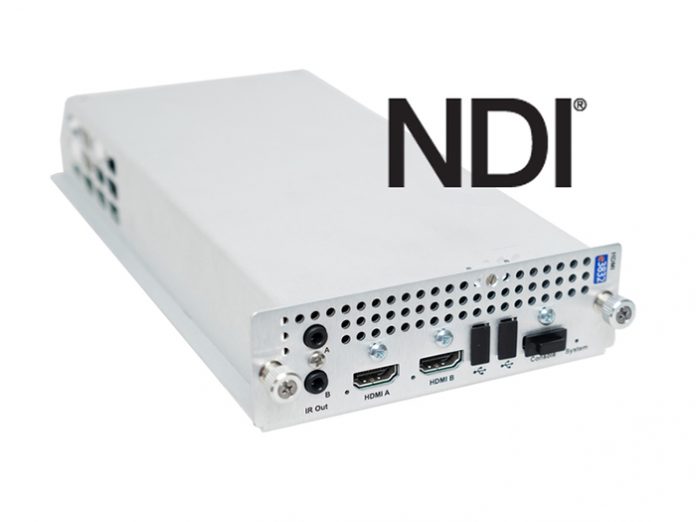 Exterity, the award-winning leading provider of IP video, digital signage and guest experience technologies today announced several key product releases as it readies for participation in BroadcastAsia 2020, the now virtual version of Asia's largest broadcast and ProAV event. This virtual event, packed with webinars and presentations, product demos and networking, will take place over the same days that BroadcastAsia would have been held (September 29 – October 1), had it not been impacted by the global COVID-19 crisis.
Looking ahead to Exterity's plans for BroadcastAsia 2020, Stanley Chang, Regional Manager Asia, at Exterity, said: "Although we will miss the buzz and face-to-face interaction we usually enjoy with our customers and partners at BroadcastAsia, we are delighted that the virtual event has been organised. Attendees of the virtual show will be able to tune into live presentations and schedule meetings with me to learn more about the latest enhancements to our product range – all from the comfort of their home office."
Exterity's products and solutions deliver more tightly integrated and unified communications for business and government organisations, pushing the bounds of AV technology to better engage, inform, educate and entertain guests, visitors and employees. Coinciding with the event, Exterity has announced several new product integrations and availability of previously announced features.
Exterity and Samsung offer choice of IP or RF Channel Hospitality Solutions: Exterity and Samsung have again been working closely together to extend the reach of their integrated hospitality solution – comprising Exterity ArtioGuest interactive guest experience portal and Samsung displays with built-in tuner. The hybrid Wi-Fi/RF solution enables hotel guests to enjoy the same level of in-room guest entertainment service as those with a cutting-edge, IP-based network, saving hotels the cost and disruption of re-cabling rooms to a wired IP network.
The RF-based solution is simple and cost effective to deploy, manage and support, as there is no need for a new IPTV Head End or IP switch network. Hotels can use their existing coax infrastructure to deliver channels, while the ArtioGuest portal can be deployed over Wi-Fi, providing a premium guest experience. Earlier this year, Exterity announced similar integration with the Sony BRAVIA range of hospitality TVs with built-in tuner.
New 4K Media Player with 4K 60fps graphics and animations capability: Scheduled to ship in the second half of 2020, the pioneering AvediaPlayer m9605 Media Player is able to integrate not just 4K video, but also highly detailed 4K 60fps graphics and animations into digital signage to create an enhanced and enthralling visual experience. This powerful new platform fully integrates into Exterity's IP video ecosystem and features the latest Intel Core CPU, high capacity on-device storage, and a quiet, fanless design
Extended support for NDI: Exterity's AvediaStream Transcoders, ArtioPortal Desktop and now full range of AvediaStream Encoders all support NDI, NewTek's AV-over-IP (AVoIP) standard, while still supporting IPTV. This seamless integration creates an end-to-end NDI solution, enabling organisations to easily contribute, distribute and display content, sharing production-quality video between AVoIP live production environments and Exterity IP video solutions. As we continue to develop and improve our end-to-end solutions, we will soon introduce NDI support on our Media Players. This will enable a complete NDI integration, from source to display on any screen.
During BroadcastAsia, visitors to the Exterity virtual booth can also find out more about recently announced and shipping product enhancements, including:
4K Media Player with 4K 60fps graphics and animations capability: Scheduled to ship in the next few months, the pioneering AvediaPlayer m9605 Media Player is able to integrate not just 4K video, but also highly detailed 4K 60fps graphics and animations into digital signage to create a stunning and enthralling visual experience.
Meeting Room Element for ArtioSign Digital Signage: Building on ArtioSign's existing Meeting Room functionality, this new feature enables organisations to let people see more at a glance, including meeting room availability, daily meeting room schedule, and directional information – all on a single signage display.
New ArtioFlow workflow app: Creating time-saving workflows is made easy with ArtioFlow. Users simply drag a series of actions to be executed on the IPTV system – such as power on, set volume, or channel change – to create sequences, as well as create and prioritise workflow triggers, so screens will be automatically and instantly updated when specific events occur.
Next generation Encoders ship with Intel E3900 series technology inside: Exterity's 38-series AvediaStream HDMI Encoders, powered by Intel's innovative Atom® E3900 processor, provide a more flexible solution, capable of supporting a wider range of codecs versus traditional, single codec ASIC solutions.
Exterity has a global presence with customers in multiple sectors that include corporate & finance, broadcast & media, hospitality, stadiums & venues, and education. Asia-Pacific based customers include Alva Hotel Hong Kong, Bank of China, Okada Manila Casino & Resort, Phoenix TV, Royal Randwick Racecourse and The Bend Motorsport Park.