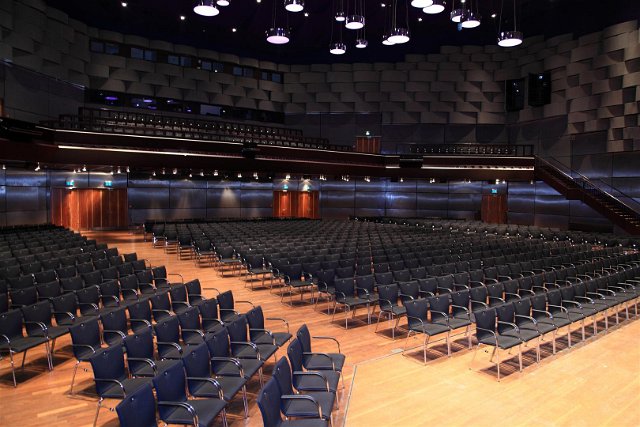 Following a recent technical upgrade which saw convention and concert venue Eurogress Aachen install two Yamaha CL5 digital mixing consoles, the new desks proved so successful that five more Yamaha digital mixers have now been installed.
Eurogress Aachen is a major venue for business and entertainment in the German city with three main halls and an array of breakout and meeting rooms. For the previous upgrade, a Dante network was installed throughout the complex with a Yamaha CL5 console and Rio3224-D i/o unit in the 1700-capacity Europa and 430-capacity Brüssel halls.
Installed by Köln-based TEQSAS GmbH, the company has since been asked to add two Yamaha QL1 digital consoles each with a Rio1608-D i/o unit and three TF1s.
"The straightforward way of working with the CL5 consoles was the 'door opener' for us being asked to install further Yamaha products," says TEQSAS Technical Director Rainer Laschet. "Because the Yamaha user interface is familiar across all of their consoles, the products work together so seamlessly and by choosing the QL1s and TF1s, Eurogress staff knew that everything would communicate perfectly". "It also provided an extremely flexible system as the equipment can be interchanged between the different rooms when using the local RJ45 connectors, as well as seamlessly combining them to build large systems when necessary."
With the Dante network installed at the time the CL5s were installed, the latest upgrade was a literal 'plug and play' solution with the new consoles being able to be put to work straight out of the box. Although they can be used anywhere on the Dante network, the three TF1 consoles are mainly used in the venue's nine conference rooms. Each has a small audio setup of two or three microphones, a laptop connector and a video-conferencing link.
Yamaha digital mixing solutions have not only been popular at Eurogress Aachen as TEQSAS has recently undertaken a number of significant installations in other major venues in western Germany including two CL5s, four Rio3224-D and two Rio1608-D at Messe Düsseldorf. As well as a CL5 and interface cards at Staatstheater Stuttgart, a CL5 and Rio3224-D at Stadttheater Aachen, a QL5, two Rio3224-D and DME24N at Hochschule Freiburg and a Rio1608-D and Ri8 at Stadthalle Mülheim.
"The ease of use, flexibility and reliability of Yamaha digital mixing solutions is proving popular in convention centres, theatres and major education facilities throughout western Germany," concludes Rainer.