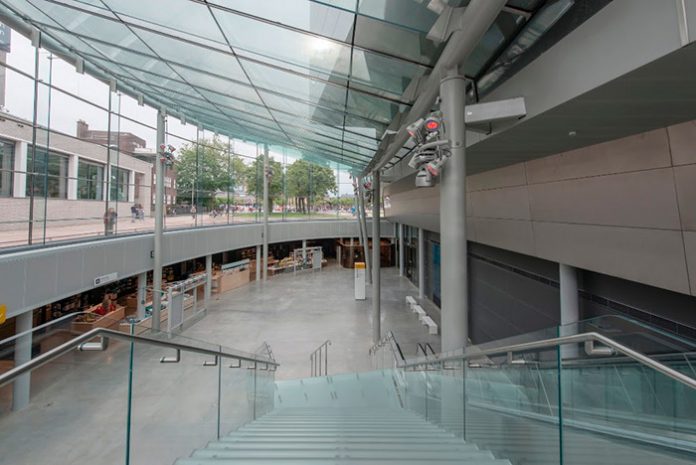 ETC dealer Ampco Flashlight has installed 30 custom-painted Selador Desire D60XTI Studio HD LED fixtures, alongside seven full colour D60XTI Vivid and ten D22 Lustr+ fixtures, in the stunning new entrance building for Amsterdam's Van Gogh Museum – controlled by an ETC Unison Mosaic system.
The museum, which opened in 1973, houses the world's largest collection of the painter's works. The new 800 sq m glass building between the original museum and the temporary exhibition wing accommodates the cloakroom, shops and a central atrium. The 650 sq m of glass with which the building is constructed means that it is flooded with light during the day; so Ampco Flashlight was asked to design a lighting system which would not only be easy to operate with touchscreen panels, but would also respond to external light levels.
The tender also called for the system to interface with the museum's existing DALI- and relay-based setup.
"We needed to ensure that existing control panels within the museum could operate the new fixtures, via Mosaic," explained Flashlight's lighting sales manager, Bas van Schelven.
The Desire D22 Lustr+ fixtures are used alongside hall lights to provide the main lighting, which run lighting scenes based on the seasons, with warm colours for winter, and cooler for spring. In addition, four preset scenes were created – for day, night, cleaning and special events.
"The museum staff were very happy with the lighting and control system in the new building," said Bas. "They wanted it to be very easy to operate as part of the overall system for the museum, so we made sure that the control panels already in the main building would be able to control the entrance, and vice versa."
The D60XTI Studio HD fixtures mix warm and cool LEDs along with five additional colours to create a bright, full-bodied variable-white light. The Vivid fixtures, meanwhile, offer a seven-colour LED mixing array, which has been carefully balanced to ensure best all round use.
"The museum specified XTI fixtures, normally used for outdoor lighting, because of their convection cooling– the brief specified that forced cooling would not be allowed," Bas said.
In addition to the fixtures, the museum also specified an ETC Ion control desk and fader wing in order to be able to take over the automated control provided by the Mosaic controller. As Bas explained: "The Ion can be used when the museum hosts special events and there is a need to manually control the lights and colours. Visiting third party DMX consoles can also take over control via DMX Input into a Net3 DMX/RDM Gateway."