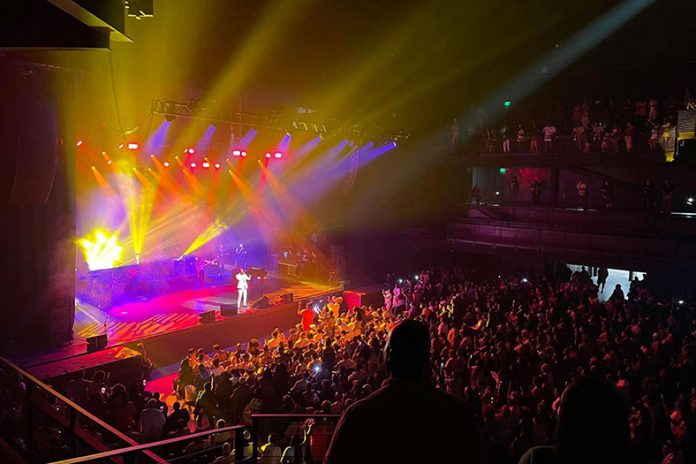 Partech Lighting recently completed an installation package of 12 High End Systems SolaSpot  3000 luminaires in the Andrew Brady ICON Music Center, a new music venue on Cincinnati's riverfront. The state-of-the-art venue features one main floor and two balcony levels overlooking  the inside stage. 
Based in Cincinnati since 1988, Partech's focus is entertainment lighting production, as well as LED video walls, media servers and related services. Their history with High End Systems goes back 30 years with use of products such as Intellabeam, Studio Spot and Studio Color, Cyberlight, and DL2s. They've also enjoyed a long and successful relationship with their client MEMI Music &  Event Management Inc., supplying services for multiple venues throughout the Cincinnati and Dayton, Ohio areas. 
Partech developed a system specification for The Andrew Brady ICON Music Center that they felt would be widely acceptable to most visiting LDs, while also working within a rough budget outline. Partech's Dave Groh commented: "Naturally, throughout the process, budgetary restraints affected some of our recommendations and substitutions were agreed upon. The SolaSpot 3000s were the one item that we felt strongly needed to remain in the specification to fulfill those original requirements.
"We needed a profile fixture that was bright and had a good feature set. It also needed to be a LED source, satisfy any LDs coming into the facility, and most important be from a reputable manufacturer with an outstanding, accessible service network. As one of the major component workhorses of the system, and with reliability and support being crucial, the choice was clear; High End Systems and the SolaSpot 3000 easily met that criteria." 
I.A.T.S.E. Local 5 handled the installation with assistance from Partech. The entire system was built, labeled, tested and documentation created for the client prior to install. The install called for a dozen SolaSpot 3000; six are hung on an upstage electric/ truss and the other six on a midstage electric /truss. Dave said that additional HES fixture purchases are forthcoming as the industry continues to recover from the pandemic. 
Other ETC equipment was installed throughout the facility by another integrator and designer contracted by the general contractor; Partech also supplied an ETC Ion XE 20 12k at the client's request. The first show to play the venue was KEM with LD Donald Koleber. Groh emphasised: "We had really great communication and support – top notch as usual – and what we expected from High End Systems. Paul Hancock was instrumental in obtaining the latest updated fixture  personality file for the SolaSpot 3000 and for Donald Koleber's Hog 4 console."