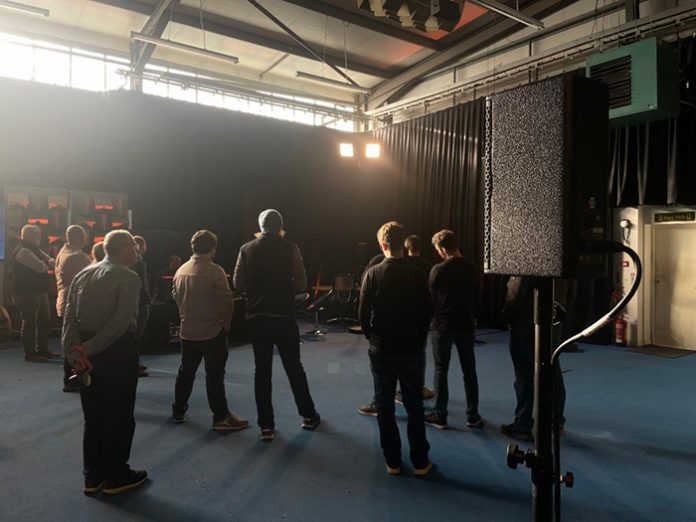 British manufacturer of professional audio solutions, EM Acoustics, held a week-long demo event at their factory. The event, which took place in late October 2023, focussed on the launch of EM's new R5 loudspeaker and was also a celebration of the brand's 21st anniversary. 
"The launch of the latest addition to our Reference Series was a catalyst for organising the event, and we're incredibly pleased with the number of visitors we've welcomed," explained Mike Wheeler, Operations Director at EM Acoustics.
Each day of the event was split into morning and afternoon sessions, with attendees invited to enjoy a full demonstration, not only of the full Reference Series, but also the rest of the range in a newly uprated, permanent demo environment. Following the listening session, which was accompanied by talks from EM Acoustics' Technical Director Ed Kinsella, full factory tours were offered.
"We are unusually transparent about our operations and we're able to show the care and attention to detail that goes into every component produced here at the factory without any restraint or secrecy" reflected Greg Clarke, Brand Manager at EM Acoustics.
The tours, led by both Wheeler and Clarke, comprised a complete overview of the making of EM's loudspeaker range whilst also providing insight into the history of the company, the materials used in their loudspeakers and the brand's sustainability considerations such as packaging and supply of resources and energy.
"We keep input 'miles' and our overall environmental impact to a minimum. We also work with local partners wherever possible, and the factory is partly powered by a solar farm on site," revealed Wheeler.
Whilst many visitors were already familiar with the Reference Series, for others it was their first experience of EM Acoustics and their products. In some cases, hearing the R5 first-hand was simply a reaffirmation of the quality already synonymous with EM's Reference Series.
William Cottrell, Technical Sales Engineer at Autograph, explained: "I was impressed by the similarity of the sonic profile to the rest of the Reference Series. This means we can confidently spec this system knowing we will get the same tonality and consistency into all areas of a performance space, especially in harder-to-reach areas where sight lines or space are a critical factor."
"EM Acoustics have a hidden gem of a demo space," commented Richard Borkum of Theatre Projects. "It's always enjoyable to visit EM as you know you're going to hear something fantastic."
Following the success of the event and positive feedback from attendees, the EM Acoustics team are enthusiastic to continue the momentum.
Wheeler confirmed: "It's been a brilliant week and we're already thinking about hosting more of these events in the future. The feedback has been excellent and delivering extra value to our clients through events like this is something we're focused on."