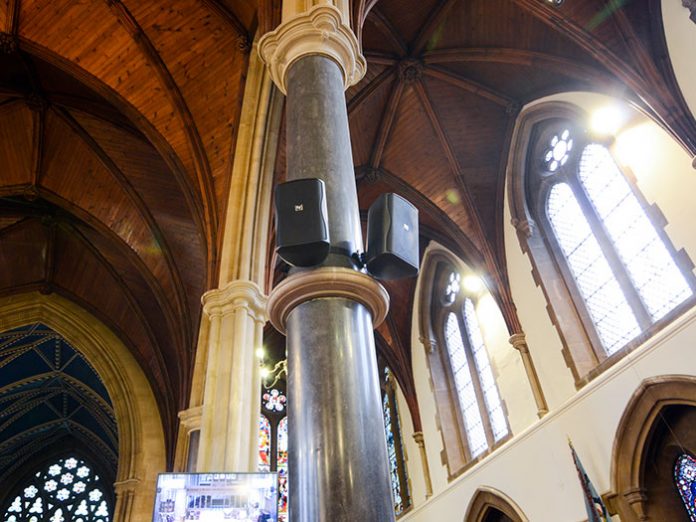 Whether historic or modern in terms of architecture; houses of worship bring unique challenges to sound system designers and installers a-like. This point is well illustrated in two recent UK installations by Creative Audio-Visual Solutions (CAVS), a design and integration firm located in Hertfordshire, UK that specialises in worship systems. Recently, the firm completed two very different church projects that illustrate this point.
Dating back to Saxon times, St Peter and St Paul's Church in Buckingham wanted to modernise its sound system to better accommodate today's worship style. Along with clear and intelligible speech reproduction and the power required for full-range music reproduction, it was also important that the system had a low-profile design that wouldn't interfere with the building's historic architecture.
Conversely, Frampton Park Baptist Church, East London is a new building, but with the added challenge of being a multipurpose gymnasium when not being used for worship services. Both locations feature amplified praise bands, with multiple musicians and orchestral instruments. Another requirement at Frampton Park was to restrict loudspeaker placement to the areas directly adjacent to the stage, to keep them out of the way during sports events, and to allow the room's temporary wall system to slide into place to close off the stage area.
For this room, CAVS System Designer Ian Bethell and Sales Director Rob Alvis used a pair of Electro-Voice EVF-1122S full-range loudspeakers in a left/right configuration above the stage, each augmented by an Electro-Voice EVU-1082, mounted behind and angled to provide coverage to the side-stage areas. Bass enhancement comes courtesy of a pair of Electro-Voice EVF-1121S subwoofers mounted directly beneath the stage/altar area. Power is supplied by CPS 2.9 and CPS 8.5 amplifiers from Electro-Voice. For the band on stage, six Electro-Voice ZXA1 powered stage wedges provide monitoring.
Rob delved into how the system was set up to gain the best quality: "It's quite a reverberant space, so we avoided using 18-inch subs, which would be overpowering. Instead, we used the 12-inch EVF, which provides a nice punch with tight control of the low end. For the mains, we needed to cover a 15-metre throw, which the EVF-1122S handles with ease."
Another highly reverberant sanctuary, St Peter and St Paul's in Buckingham required a different approach. To ensure clarity of speech, Creative Audio-Visual recommended a point-source approach, using Electro-Voice ZX1i loudspeakers in a distributed system. A pair of these 8-inch, 2-way speakers is affixed to each of four pillars in the sanctuary, with two more deployed up high on the rear pillars to serve the balcony. A single ZX1i serves the choir area. As drilling into original stone and marble of the historic building was not an option, CAVS engineers also devised a method of mounting both loudspeakers and video screens to the church pillars using custom band brackets that clamp around the columns without harm.
Two floor-mounted subwoofers, the 12-inch Electro-Voice ZX1-Sub, were added to augment the low-end response from the worship band's bass and drum components. The entire Electro-Voice ZX1 complement is powered by the Electro-Voice CPS 2.9 multichannel amplifier, with a CPS 8.5 handling the subwoofers.
Rob Alvis also noted that the ZX1 is a very flexible, high-fidelity design in a compact package, which was perfect for St Peter and St Paul. By moving the speakers out into the congregation, CAVS installers were able to provide far better intelligibility than is typically heard in an historic sanctuary, which meant the project created fantastic results all round.
The sound systems in both locations share signal processing and routing via the Electro-Voice NetMax N8000 system controller, which allowed Creative Audio-Visual Solutions to tune these systems as a whole, and then optimize each loudspeaker component individually via FIR (finite impulse response) Drive. The powerful Electro-Voice NetMax digital signal processing engine offers powerful equalisation, dynamics, filtering and crossover control.
Rob was not surprised that these very different configurations of each house of worship both resulted in the choice of EV loudspeakers: "One thing we love about Electro-Voice is their clarity and fidelity, and the wide range of dispersion patterns allows us to address any situation we're likely to encounter. When you add to that the level of flexibility the Electro-Voice NetMax controller affords, it allows us to create excellent intelligibility and fidelity in difficult, reverberant spaces. It has really made EV the first brand we consider for nearly any worship space."
https://www.cavsolutions.co.uk