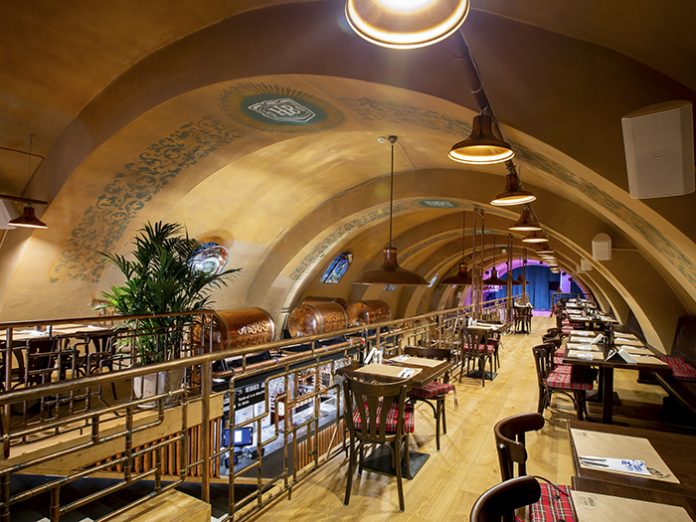 The latest renovation at the historic Becker Brau – HB in Bucharest has seen the installation of a new audio system that exploits the synergies of Electro-Voice loudspeakers and Dynacord electronics. The venue is the site of the first German brewery in the city and is a popular location for a variety of events, from live music and theatrical shows to weddings and corporate events.
It was this wide range of applications that provided the main challenge for HSA Audio, the Romanian Electro-Voice and Dynacord partner in charge of the system design. "We were challenged by both the architecture and meeting the needs of multiple people, from the owners and interior designers to the orchestra and the event planner," recalled Adrian Colita, General Manager at HSA Audio. "Our main architectural challenge was to choose an audio system that could seamlessly blend into the design of the location while also meeting the technical and acoustic requirements."
To achieve this, HSA Audio chose the Expandable Vertical Array (EVA) from Electro-Voice for fixed installations, which allows users to drive up to eight boxes (the equivalent of 16 line array elements) from a single amp channel. The main hangs consist of three EVA-2082S 920 per side, with low-frequency extension via two EVA-2151D subwoofer elements each side, all sporting a white finish. To complement this, EVID-S series commercial sound loudspeakers were also installed, providing superior sound quality with controlled coverage for keeping background music focused and paging intelligible. Sixteen EVID-S8.2W loudspeakers form the venue's background music system, while also serving as delays for the main system and providing a seamless, linear sound that matches the elegant design.
Power and processing for the installed solution is via Dynacord L Series amplifiers with four L1300FD and a further pair of L3600FD units deployed. Dynacord's Multi Amplifier Remote Control (MARC) software allows users to configure, operate and supervise up to eight amplifiers. "The L Series amplifiers have helped us a lot on the processing side for both the main audio system and the background music, all the more so as we can easily set the delay groups," said Adrian. A Dynacord CMS 1000-3 mixing console provides additional hands-on control.
"Our customer and their guests are very pleased with the audio quality and system performance, as well as the elegant design," added Adrian.