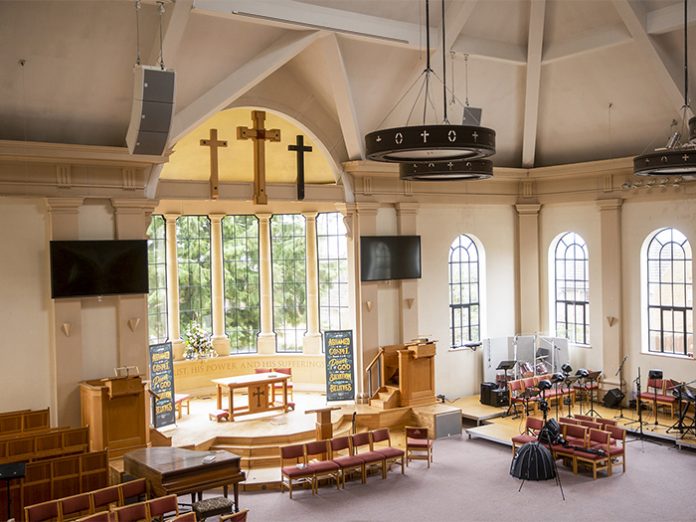 All Saints Church in Crowborough, East Sussex has upgraded its sound system, investing in Electro-Voice EVA (expandable vertical array) loudspeakers driven by Dynacord IPX series amplifiers. The new system, designed and installed by local supplier Ashdown Audio Visual, provides the church's 600-strong congregation and musicians with much needed clarity of sound during its services.
All Saints Church was suffering from a common problem – an ageing sound system that was past its best. Keen to ensure that services remain accessible to everyone, the church turned to Ashdown Audio Visual to help it find a new sound reinforcement system. After sampling several brands in the space, the sound quality of the Electro-Voice solution immediately stood out to the teams from both the installer and the church. "When the EV system went in, it sounded so natural, straight out of the box," comments Mark Willets, Senior Engineer, Ashdown Audio Visual. "We didn't even have to process it at first and it just sounded fantastic."
Featuring two EVA 2082S-906 line array modules for even coverage across the length of the room, EVA 2151D subwoofers, and ZX1i loudspeakers for infill and as a monitor system for the choir, the set-up provides clear and even sound quality for the congregation, speakers and musicians. The amplifiers driving the system are the Dynacord IPX series, with an IPX10:4 powering the tops and subs and an IPX5:4 looking after the fills and monitors. Dynacord's SONICUE sound system software was used to tune the solution and completes the set-up.
While sound quality was the main priority, the aesthetics of the new system were also important. As such, it was decided that the white version of the EVA loudspeakers were the best choice to blend seamlessly into the existing architecture. "When we look at a project like this, we take into consideration the architectural surroundings," explains Arthur Archard, Sales Consultant, Electro-Voice and Dynacord. "We consider what would fit not only acoustically, but also visually."
The result is one that the church is more than happy with. "I'm a preacher, and I believe that what I say has got to be heard," concludes Steve Reece, Vicar at All Saints Church. "Thanks to the new sound system, the congregation can finally hear that message! It's made a massive difference. We want people to be able to see, and hear, really clearly – it's fundamental to what we do every Sunday."