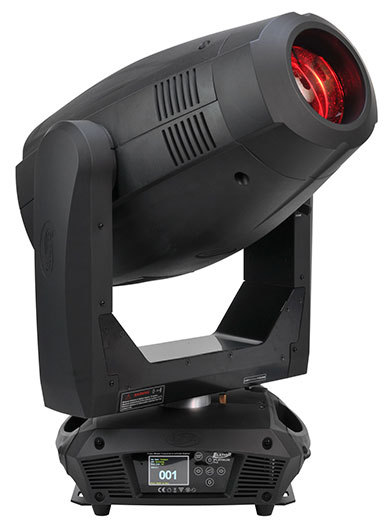 Elation's Platinum FLX hybrid moving head is growing in popularity among rental companies and lighting designers in the U.S. and Europe with sales of the award-winning multifunctional fixture soaring since hitting the market last autumn.
Rental companies across the US, Canada and Europe have discovered the value of the unique beam/spot/wash fixture, which is also finding its way into a variety of installation projects thanks to its versatility, performance and value. In the US, a growing number of rental companies have added the Platinum FLX to their inventories including Atomic Pro (Vermont), Dynamic Productions (New York), Elite Multimedia (Nashville), Kinetic Lighting (Los Angeles), Main Light (Delaware), and StageTech (Los Angeles).
"From a rental house standpoint, we liked the concept of having a hybrid fixture because it can fit a broad range of applications," stated David Rosen, President of Kinetic Lighting. "Concerts and EDM festivals can use the FLX as a super high-output beam light whereas corporate and special events can use it for projection and aerial FX in the same rig to save space and weight. It will also be a big plus for trade show applications – relying on the FLX to cut down on fixture counts, thereby reducing weight and power needs." 
Jason 'Cannonball' Jenkins, Director of Operations at Elite Multimedia, also points to the hybrid fixture's versatility. "The FLX is very much a 'Swiss army knife' of a fixture for us. It can function across the board as a profile, beam, and wash. This kind of multi-function use is what our clients are currently looking for – less fixture types and more options. The output looks phenomenal and the beam structure outperforms some of its nearest competitors. Elation has really hit the mark with this fixture."

"Our previous Elation units have served us well," commented Randy Mullican, Operations Manager at Main Light Industries, one of the largest rental houses in the United States, "and these new FLX units provide a great value for the price."
The Platinum FLX is a spot/ beam/wash moving head that is increasingly being recognised for its new approach to hybrid lighting. It has been honoured with a PLASA Award for Innovation and Best Moving Light Award at WFX, along with a Best Debuting Product honourable mention at LDI.