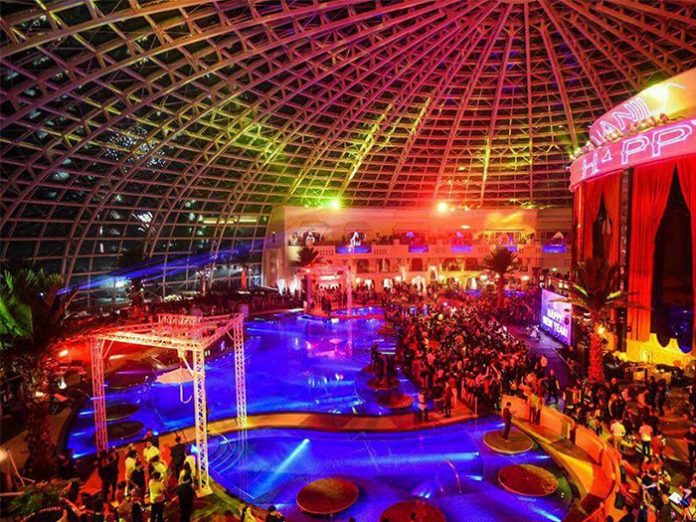 Elation Lighting technology allows for distinct looking events and shows at largest indoor beach club in the world.
Cove Manila is Southeast Asia's newest entertainment space, an amazing 9,000-sq meter, $200 million entertainment venue. Located in Okada Manila, a five-star integrated resort in the Philippines capital, Cove Manila includes a nightclub. The entertainment technology package dressing the venue in lighting and visual effects is large with a host of top manufacturers involved including Elation Professional and sister companies ADJ and Acclaim Lighting.
The audiovisual design for the indoor Beach Club and nightclub includes over 1,000 lighting fixtures. "There are 16 different types of fixtures in the club which ensures that every event and show is unique," stated Ted Mizrahi of Mizrahi Show Designs, technical director and responsible for the lighting and visual design.
"The lighting design for the Beach Club was achieved by starting with the goal of having lights and effects in every location surrounding the club. The large visual package gives the ability to cover any event or performance in the space with a distinct look. It allows them to play with different fixtures to get a variety of looks so you don't see the same light show over and over."
Much of the large lighting package can be found at the performance stage but there is also an abundance of fixtures in surrounding locations. Fourteen artificial palm trees in the Beach Club house moving lights, strobes, blinders, washes and lasers for a disco effect from every direction, while a custom 15-meter diameter kinetic centerpiece chandelier, capable of thousands of visual effects, houses video and lighting to engulf guests in an immersive nightlife party.
Ted used Elation Cuepix Blinder WW2 fixtures to cover multiple lighting roles in the space. Mounted in each palm tree, in the centerpiece chandelier, on the main stage truss and in the DJ booth, the white light LED blinders are used for blinding, strobing, washes, chases and even function as work lights. "We looked at architectural wash fixtures but they were very expensive," the designer explained. "
We chose to use Cuepix fixtures and have them spread around the venue. They are versatile and are good for an even wash of light, are bright and spread light well in the massive space. We even have them up in rooftop custom rigging pieces where they function as work lights and are programmed to work with the emergency lighting system. We burn them all day and all night and they are holding up well." Also in use are one-meter long Elation SixBar 1000s colour-changing battens, as well as Elation ELED Fresnel II warm white wash lights.
"I wanted a 360-degree rotating effect that projected a blade of light and the ACL 360 Bar was the answer. They throw from 50 feet down to the floor and give a different look than moving lights. Other venues just use moving heads but these give the rig a different look."
The Elation, ADJ and Acclaim lighting, as well as the Antari M-7 LED fog machines were supplied by Pacific Technical Products Pte (PTP) through their local supplier Maxitech.