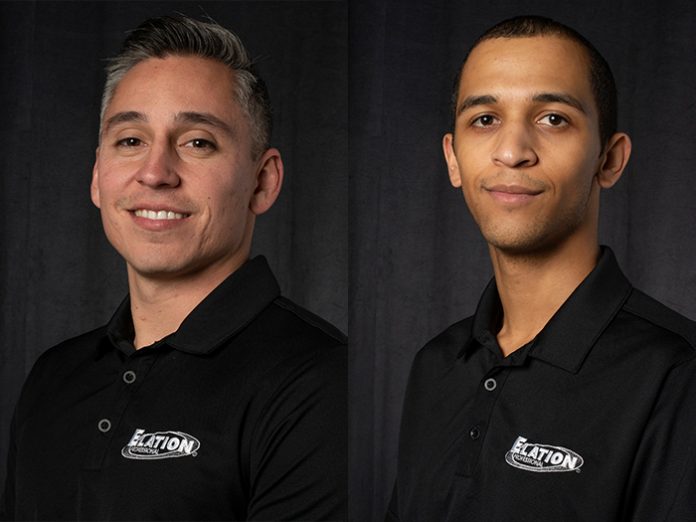 Elation Professional is pleased to announce that two of its talented young employees, Anthony Velazquez and Shawn Butcher, have assumed new roles as Product Specialists effective from the start of the year. Velazquez has been named Antari Product Specialist while Butcher assumes the role of Control Product Specialist, which encompasses Elation's new Obsidian Control Systems line of professional lighting control products.
"We are excited to promote from within our organization both Shawn and Anthony, who have proven over the years to be strong team players, both with a passion for servicing our customers," said Elation Sales and Marketing Director Eric Loader. "Their focus and dedication on developing these product categories will be key to our growth plans for each brand."
Velazquez has been with Elation for over four years and moves from a position in inside sales. His new responsibilities encompass broad management of the complete range of Antari special effect machines and includes launch and promotion, product training, inventory and market analysis. "When I started at Elation, I was new to the industry and excited about the Elation product line," Velazquez commented. "I was especially excited about the Antari line of atmospheric effects and the possibilities it presents. It has always been a goal of mine to one day become a specialist and I look forward to the challenge ahead."
Butcher has been with Elation for two and a half years as a lighting designer and programmer. His new role as Obsidian Control Systems specialist also encompasses other Elation control solutions including Digidot™ LED controllers and Capture™ lighting design software. He will work closely with the Obsidian Control Systems development team and will also help to manage new product launches. "I have seen the company grow and develop tremendously in my nearly three years here and am excited to be a part of the new and exciting things happening. Having been a programmer for a number of years, it is important for me to provide our customers with the support and products needed to make their shows go on and I look forward to being able to do so in this new role.