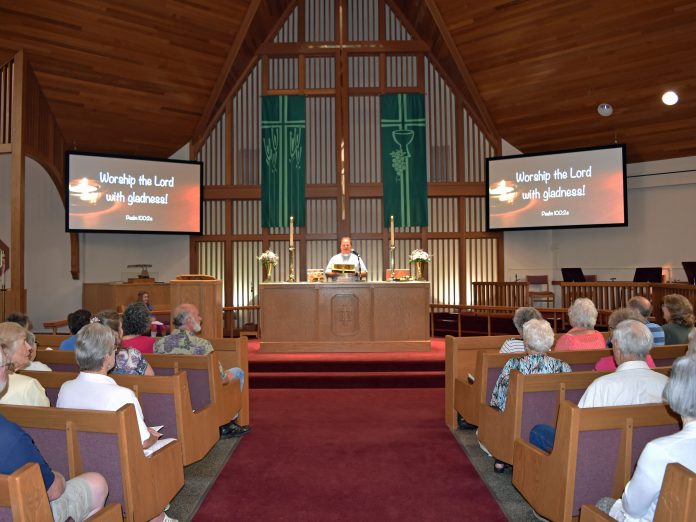 With a mission to continue developing a place of ministry to fulfil God's vision, Calvary Lutheran Church ELCA offers a considerable variety of programs to reach young children, teenagers, and adults, all tailored toward helping these respective groups gain the most benefit from their worship experience. To maximise their presentations and, thus, engage their congregation, church officials recently elected to outfit their sanctuary with video projection capability. This effort ultimately led to the deployment of two laser projectors featuring red and blue laser technology from Rancho Santa Margarita, CA-based Eiki International, Inc.
Diamond Support Services of Junction City, OR, an AV design/build firm dedicated to serving churches, schools, universities and other larger venues where sound and media presentation is critical, handled the sale and installation of the Eiki equipment with installation support from Enoch Howell, CTS-D of Eugene, OR. After meeting with church representatives to ascertain their objectives, the decision was made to install two Eiki EK-810U WUXGA 8,000 Lumen large venue laser projectors, each outfitted with a Long Throw Lens. Company owner Steve Diamond, who also handles sales, system design and project management, discussed the project.
"The church has an older demographic but is attempting to attract younger families," Steve explained. "The video and sound upgrades have been implemented with that goal. Currently, services are a mix of contemporary and traditional worship styles. With the ability to project song lyrics, prerecorded video, as well as Scripture/sermon notes the hope is that the visuals will better engage the congregation and make worship services that much more meaningful."
The projectors are installed in the back of the sanctuary, mounted on a shelf and secured to the top of the heating and air distribution ledge with the output of each projector shooting in a crossfire configuration. The dual front projection screens were required to be flown rather than wall mounted with special consideration given to the location and positioning to achieve the best viewing angle.
Because of the abundance of ambient light in the sanctuary, special consideration was required to ensure the projected content would be clear and easy to read. According to Steve, "The sanctuary is flooded with natural light coming from the rear as well as the left and right sides with each of these areas consisting of floor to ceiling glass walls. To address this situation, we installed screens from Crystal Screens by Luminit, LLC of Torrance, CA. We installed twin Reflect 3.0 Hi-Gain surface, 134-inch diagonal screens with extra wide viewing angles and Hi- Ambient light rejection. These screen features are both unique and are newly introduced to the market."
When queried about those attributes that made the Eiki EK-810U projectors ideal for this environment, Steve offered the following thoughts, "The EK-810U delivers stunningly vivid colours because of its use of both red and blue lasers. These units produce sharp, high contrast images that maintain true to life colour reproduction. Equally notable, the liquid cooled, IP6 rated sealed optics are designed to require little to no maintenance. This means no lamps to replace and no filters to clean. These characteristics, plus Eiki's proven reliability experienced on prior projects, made the EK-810U a solid projector choice for this project."
For installations of this complexity, quality customer and technical support services are essential. Here, too, Steve was very complimentary of Eiki. "Eiki was a pleasure to deal with," he said. "The order was immediately confirmed and shipped. The company provided tracking information and the product arrived on time. Our factory representative, Steve Long & Associates provided excellent information and direction throughout the entire project. Steve even showed up to view the installation once it was completed. Everyone at Eiki is truly a pleasure to work with."
Calvary Lutheran Church's new video projection system was installed in early August and placed into service immediately. Everyone reports being very impressed with the new equipment. "Larry Weaver, Technology Leader at Calvary Lutheran Church, summed matters up succinctly, "The congregation was thoroughly amazed at the clarity and brightness of the whole system. I have nothing but kudos to all involved in this project."