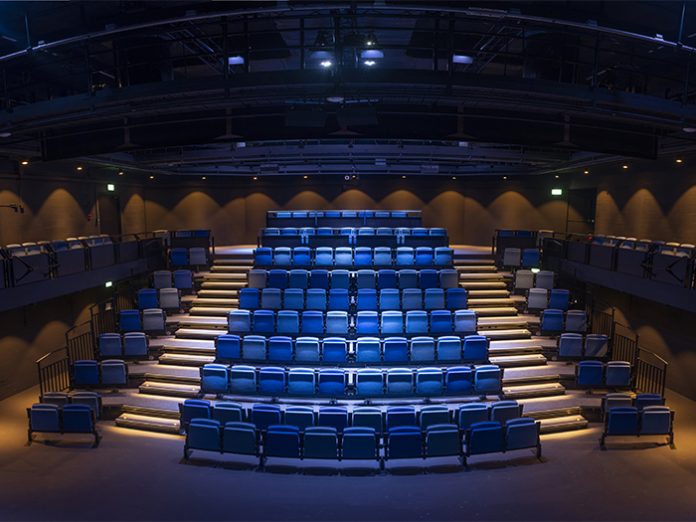 The Drum theatre is a flexible performance studio venue, forming a highly successful part of the Theatre Royal Plymouth (TRP) complex. A bijou 159-capacity space, it hosts an eclectic mix of house productions and also receives shows from established smaller scale touring theatre companies. The venue has recently undergone a full refurbishment including a premium sound system from EM Acoustics based on its flagship Reference Series loudspeakers.
TRP Head of Sound, Dan Mitcham explains that as part of the renovation process, he and his team were tasked with looking into how to improve the existing sound system. "We had a four-box set up of main L/R and surround L/R, but it didn't cover the whole auditorium, and was also starting to show its age. We decided it was better to start again from scratch and put in a system worthy of the space."
When asked what prompted the choice of EM Acoustics, Mitcham simply describes that "we've always loved the sound of EM. We have them in our basement studio (the Lab) here at TRP and whenever we need to hire systems, we usually spec EM." As soon as the funds were allocated, Mitcham got in touch with EM's Greg Clarke, "who was handily designing a show next door in our larger venue, the Lyric, at the time," to determine a system that would work both acoustically and financially. "EM satisfied both requirements," he says. "We like the all-round warmth of the boxes, and how they work well together, complementing each other. The build quality is excellent and the fact they are built in the UK is in line with our environmental values. They are also very powerful for their size – which is useful in a small studio space – with easy-to-use control. Most of all though, they just sound fantastic!"
Clarke happened to be using R10s for his show on the Lyric stage which was the perfect opportunity for Mitcham to hear them in a performance situation. "We were blown away by how clear and crisp they were," he recalled. "Also, as they are very directional, you don't get much trouble with feedback." Clarke recommended the eight-inch R8s for the Drum theatre which are configured as a LCR system supplemented by two S12 subwoofers, four EMS-61s as lower fills and delays, two EMS-51s as balcony slip fills, two EMS-81X as rear surrounds and a final R8 as a flexible box or a fourth cabinet for in-the-round configurations. Two more EMS-61s and a further four EMS-51s act as spot FX or surrounds when required.
"The customer service has been second to none," noted Mitcham. "EM have been in contact throughout the whole process, and Greg even came down to assist us in commissioning the system. The R8s are wonderful sounding speakers, with a rich warm sound and exceptional clarity. The sound levels they generate for their size are phenomenal and having the flexibility of two interchangeable, rotatable waveguides included with each cabinet is brilliant. I can't rave about them enough."