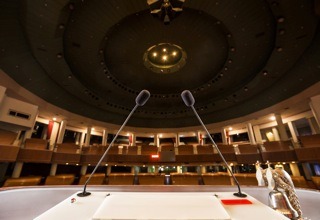 Yoido Full Gospel Church, a Pentecostal church in Seoul, South Korea, has turned to DPA microphones to ensure that its record breaking congregation can clearly hear the pastors' sermons as well as the choir and musicians that regularly accompany its services.
"The biggest reason for choosing DPA was the solid yet clean tone its microphones deliver," says Jung Kim, Sound Director for the Church. "Other brands also have various adaptors and options, but for us DPA microphones were the best." Founded by David Yonggi Cho in 1958 and presently led by Young Hoon Lee, the Yoido Full Gospel Church is located on Yoi, an island in the middle of the Han River. The church's main building was inaugurated in 1973 and it now has nearly 500,000 members making it the largest Pentecostal Christian congregation in South Korea.
In total, the Yoido Full Gospel Church has invested in eight d:vote 4099 Instrument Microphones, one d:fine 4088 Cardioid Headset Microphone, four d:dicate 4011 Cardioid Recording Microphones and two d:facto Vocal Microphones. Jung Kim says, "I have previously used DPA for live events and in other churches, so I was aware of the quality of the brand. When the time came to upgrade our microphones, I chose DPA because they deliver great results and offer the reliability we need in terms of installation, microphone characteristics and minimal interference between microphones that are being used near to each other."
For the main part of the church where most services take place, Yoido has chosen the DPA 4011F d:dicate gooseneck microphone solution which features the versatile MMC4011 cardioid capsule. The 4011F Podium Microphone solution has been installed via a DPA TSM4001 table shock mount. This configuration is ideal for pastors because the 4011F Podium Microphone solution offers exceptional speech intelligibility via its linear on-and off-axis response. Pastors and visiting lecturers also have the option of using the d:fine Headset Microphone which gives them complete freedom of movement. Yoido's selection of d:vote Instrument Microphones are used by the orchestra to amplify piano, string and brass instruments, while the church's choir is amplified with d:dicate 4011A Cardioid Microphones.
"We also use our d:vote Instrument Microphones for bands and for other purposes, depending on the occasion," Jung Kim adds. "We are now looking to replace the microphones we use for satellite broadcasting and radio production and once again DPA will be our first choice."