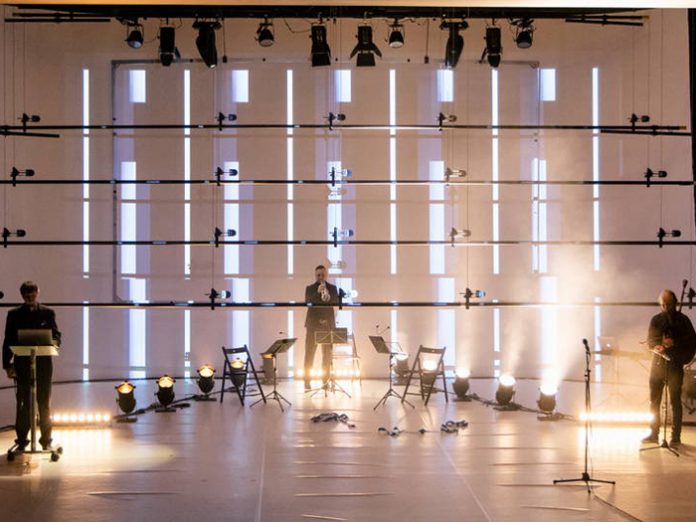 The venue known today as Dom kulture Kamnik (DKK), located to the north of Ljubljana in Slovenia, was built in 1953 as part of the Kamnik Chemical Industry. Constructed by the workers themselves, DKK was designed to be a cultural entertainment center to serve the local community.
Although the main stage incorporated hoists, the venue was primarily used as a movie theatre until it temporarily closed its doors in 1991. With the idea of revitalising live performances came the decision to renovate the building. Over the past two decades, a variety of improvements have been made, including the recent installation of a stage machinery system from ETC Rigging, comprising Prodigy P2 hoists, Helix cable management, a ColorSource Raceway prewired power and data distribution system, and a QuickTouch Preset controller.
"Back in 2017, we were at DKK installing an ETC ColorSource ThruPower system for dimming, and an Element console," says Ivan Franinović, from ETC dealer Elsis d.o.o. "We were asked by Primož Jeras – the man holds together this venue in every technical respect – to come up with some ideas for replacing the hoists.
"As demand to see theatre shows was growing, the risks associated with using 70-year-old counterweight hoists were also increasing. No disrespect to the original stage builders, but the hoist structure was made of wood and pipes hanging on hemp ropes. They did a perfect job for that period, but it was time for an overhaul."
Elsis d.o.o. consulted the stage machinery team at ETC, and together they worked on design proposals including Prodigy P2. They were mindful of minimizing any negative effects of installing a modern hoist system in a venue of this age, particularly with its local historic importance.
Due to the age of the building, there were no structural calculations available. Consequently, the greatest challenge was to establish the possibility of hanging the desired weight according to today's safety standards. In this case, the Prodigy P2 with compression tube was the best solution to integrate with the old building structure. The second challenge was to design a structural support for the new hoists, capable of carrying the required loads and find a way to maneuver the steel support structure into the building, causing as little damage as possible. Ultimately, following public competition, the decision was made to install an ETC Prodigy P2 stage machinery system. The biggest challenge then was the race against time with delays resulting from the pandemic.
"There were nine original rope counterweight hoists that needed to be replaced – and two of them had to be electric lighting hoists," notes Franinović . "The Prodigy P2 system with QuickTouch Preset was one of the best options available. Although there were other hoists that could potentially work for this project, Prodigy P2 was certainly the best combination of standard and safe structural components to get the project running in just a matter of days."
The Prodigy P2 System is designed and built to meet the European Standard EN17206:2022 for Stage Machinery, CE compliant, and TÜV Certified according to DGUV-17-28 (BGV-C1). It enables the creation of a complete stage machinery system simply and without expensive expansion costs. This compact, complete-package solution offers a 300-kilogram ELL lifting capacity, making it a good choice for venues with medium travel heights. At DKK, the complete stage machinery installation comprised a Prodigy P2 system with compression tube, Helix cable management and ColorSource Raceway prewired power and data distribution system. This was combined with a ETC QuickTouch Preset controller, designed to work directly with P2, with the connection of a simple CAT5e control cable, without needing additional equipment or cables to commission or run.
"The QuickTouch Preset controller is easy to use and is user-definable," says Franinović. "It also perfectly integrates with ETC Element console Magic Sheets, so the lighting operator can have an overview of hoist heights and light intensity at the same time. Furthermore, the software is constantly evolving and no doubt there will be even more useful features added in the future."