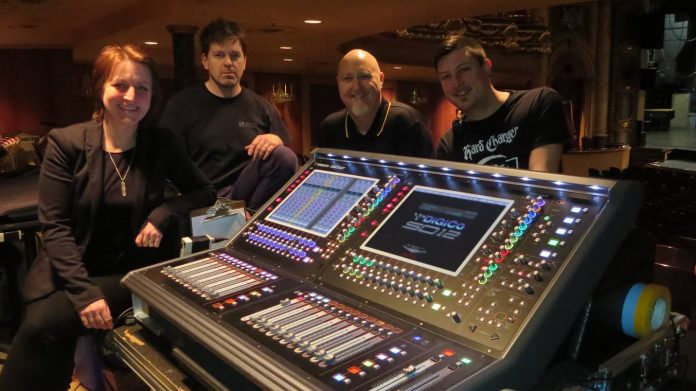 Canadian-based Imperial Theatre has recently taken delivery of two DiGiCo SD12, consoles that are not only right for the venue, but also for the string of visiting engineers needing a versatile mixing desk that allows them to set up shows quickly and easily.
"We looked at a lot of consoles from a lot of different manufacturers. They each had things we liked and didn't like," explained the theatre's head of sound, Sean Boyer.
"Time again, the SD12 bubbled to the top of our conversations because of its small footprint, flexibility, world-class preamps, expandability and its light weight, trust me, that was a consideration. Our previous consoles would take four people to back up and move, but the SD12 can be set up by two people without strain. We constantly see DiGiCo at the top of the list for asks on riders, and engineers we had spoken with over the months couldn't sing their praises highly enough! Once I got my hands on one during a demo, I was sold on it!"
Once funding became available, it was clear that the DiGiCo SD12 was only one option for the theatre. With an already installed Meyer Sound system, the DiGiCo SD12 was the perfect marriage.
Danny Legendre of DiGiCo's Canadian distributor, Gerr Audio, who supplied the console, provided on-site training although, as Sean recalls, the team already had the system up and running prior to his arrival.
"As we had already had the SD12s up and running flawlessly, Danny's time was spent providing training to the secondary operators," he said. "At the start, they found the training a little daunting; the StealthCore2 software is so flexible and powerful and worlds apart from what they had been used to mixing on. But as time went on, you could see their eyes light up every time a new concept sunk in and they've been having fun getting to know the consoles ever since."
Base system templates have been created for the SD12; one each for FOH and monitors, including default channels, patch assignments, and system options. Each engineer that works on the console can have their own default file, and just walk in with a thumb drive and be ready to go. Additionally, show files can be built using the off-line software, provided by DiGiCo at no extra cost, allowing Sean to sit in his office with his riders in front of him and build the show.
"This means I can have everything ready weeks before the performer(s) walk into the building," he smiles. "They are constantly impressed with how prepared we are for them. That's just one of the many benefits the consoles have given us."
Whilst the in-house engineers have been using and loving the consoles, visiting engineers are just as excited about the SD12, many of them have worked with other consoles in the DiGiCo range.
"The beauty is, they can arrive with their show files for another SD Range mixer, and in two minutes we can convert it to run on the SD12," says Sean. "We have even had a 'celeb' engineer, Stan Doty (Wilco), use the board and we were able to add to his stack of SD show files he carries on his thumb drive.
"I couldn't be any more pleased with our decision. I had a few small bumps along the way, but Dany was always just a phone call or an email away, and immediately provided answers for the issues, which were, I hate to admit, operator error.
"Since the SD12s were installed, we have had nothing but wonderful feedback from acts and audience alike about how fantastic everything sounds. I feel exceptionally comfortable sitting in front of the desk. It gives me all the power I need to achieve my vision, without stressing about running out of headroom, not having enough EQs or compressors or, God forbid, hearing the AD/DA. The consoles are very conducive to executing an artistic vision, rather than working around limitations."