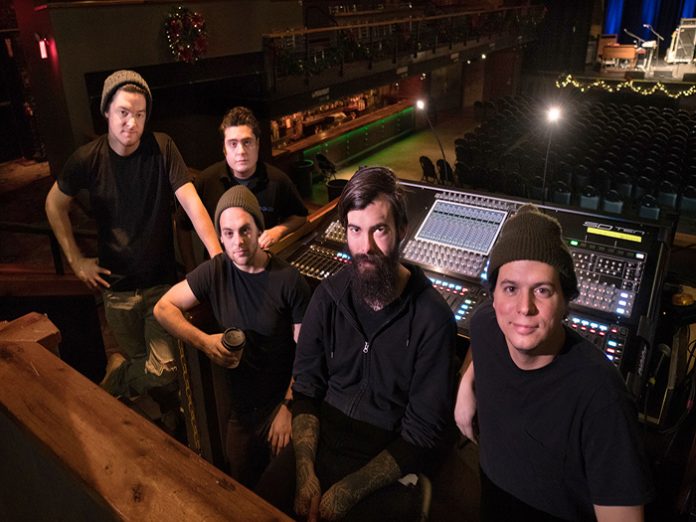 New York's The Paramount, becoming one of the touring market's leading live-sound consoles—a DiGiCo SD10, paired with an SD-Rack— which was installed at the theatre's FOH position during a December renovation of the club's entire sound system.
According to Production Manager Sean Earley, the choice of the DiGiCo SD10 seemed almost inevitable, as the number of SD consoles being brought by touring artists with them into the venue had been steadily increasing in recent years.
"We've just been seeing more and more SD10s and fewer and fewer of the other leading brands of consoles coming through here," he said. "It's pretty clear that the SD is becoming the console of choice for a lot of bands, so it made a lot of sense to put the SD10 in here."
Boasting a maximum capacity of 1,573 patrons, The Paramount features a large main dance floor, fixed side loge-balcony seating, mezzanine seating and a Skybar. Hosting an average of 200 events per year, the club does it all—from concerts to comedy to other special events, including boxing.
Earley cites the SD10's features and functionality as major reasons behind the decision, including three banks of 12 motorized faders and one master fader, each with its own high-resolution LED bar graph meter, 15-inch color-keyed TFT touch screen, and the SD10's ability to recall or save presets on the channel strip and recall or save snapshots using the master screen or hardwired switches on the console.
"We do multiple bands each night, and the SD10's recall capabilities make it so much easier for our guys to just hit a button and call up what they did during sound check," he says. "No repatching like we had to do with an analog console in the past."
As excellent as the SD10's features are, its sound is just as good. "It's a great-sounding console, and it's working well in what is a tough room," said Earley, who notes the Paramount's bare brick walls and wide-open standing-room area in front of the stage. "The SD10 helps us keep a handle on the sound in here. And it's been the perfect console for our boxing nights—it's handling the DJ, music and ring announcer as well as it does with the live bands stage."
And even in the few short months since the console was installed, the Paramount's audio staff has seen plenty of evidence reaffirming their decision. "We keep seeing bands coming through carrying their own consoles, and so many of those are the SD10 or other SDs," he says. "Everyone is familiar with them, front-of-house mixers walk in and they're instantly ready to roll on ours, and more artists are requesting them or listing them on riders. It's where the business is headed, so we feel very good about our SD10."