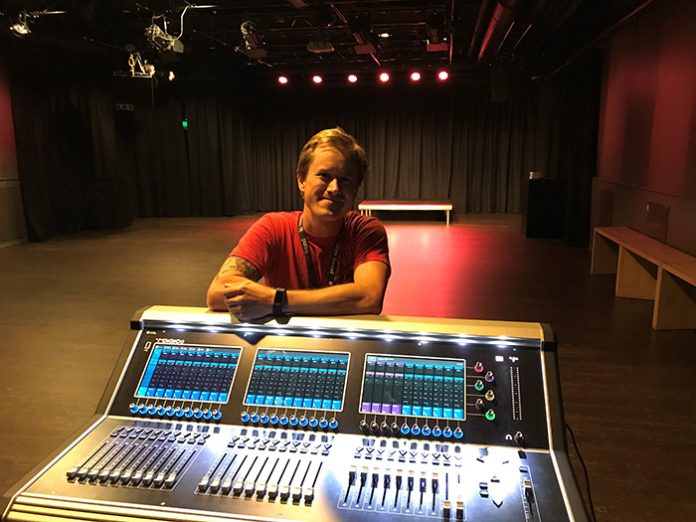 In the Autumn of 2010 Riksscenen, Norway's national venue for folk and traditional music and dance, opened a new, purpose-built venue in Oslo's trendy Grünerløkka and invested in two DiGiCo SD8s. This summer, it brought in an additional DiGiCo console, this time opting for an S31, which has been installed in the venue's club for smaller gigs.
"The SD8s were chosen by my predecessor in the first instance because of their audio quality and I/O capacity, particularly when compared to other products in their price range," said Magnus Opsahl Smaadahl, head of technical development at Riksscenen who, starting as one of the in-house engineers, had instantly fallen in love with the console's sound quality and ability to be customised. "Initially, the two mixers were on two different stages – one in the main hall and one on the Club stage – the idea being to perform rehearsals and pre-productions for shows on the Club stage and copy the show files to the mixer in the main hall. 
 "After a while, it was apparent that we needed different setups from time to time, as well as a monitor mix, so we decided to have both mixers in the main hall. Because the SD8s are physically quite heavy, we wanted to move them as little as possible, so an analogue console was used as the main mixer for the Club stage."
 With the analogue console feeling its age and restricting what could be done at monitors in terms of capacity and effects, earlier this year the Riksscenen team decided the time was right to invest in another DiGiCo console. This time an S31 one was chosen supplied, as were the SD8s, by DiGiCo's Norwegian distributor Scandec Systemer. The console was installed without any change to the venue's original system, with Magnus integrating the S31 himself and Scandec assisting him with the installation of a DMI card; a simple plug and play with the existing coaxial and XLR patch.
 "We wanted a console that's portable, as we sometimes use it for our smaller stage or ad-hoc settings around the venue," explained Magnus. "We also wanted built-in I/O – with the DMI option we can also hook up our existing DiGi-Rack for extra I/O – and MADI options, all an economic price point. The S31 seemed perfect, being lower in cost than the SD Range consoles, but still giving us the I/O and processing we need."
 Riksscenen has found that the S31 has brought many advantages with it, including fast setup and reliable multitrack via a MADI equipped sound card, making it easy for them to say yes when artists ask for their set to be recorded. "In folk music, you work with a lot of special instruments, so the multiband compressor is a great tools for this genre," Magnus explained. "And the shared Rack for the monitor mix is great for our small venue; it makes it easy for me to prepare the system before our in-house technicians starts rehearsal with the band." 
 The S31 experience has been nothing but good for Riksscenen. "Håvard Hanserudfrom Scandec gave me a run through and the training videos that DiGiCo has produced have been a great help for our in-house engineers," Magnus concluded. "I am very happy with the performance of the S31, as are our in-house engineers. It has really given our club stage the tools we need to keep up with the increasing demand for I/O and audio control."