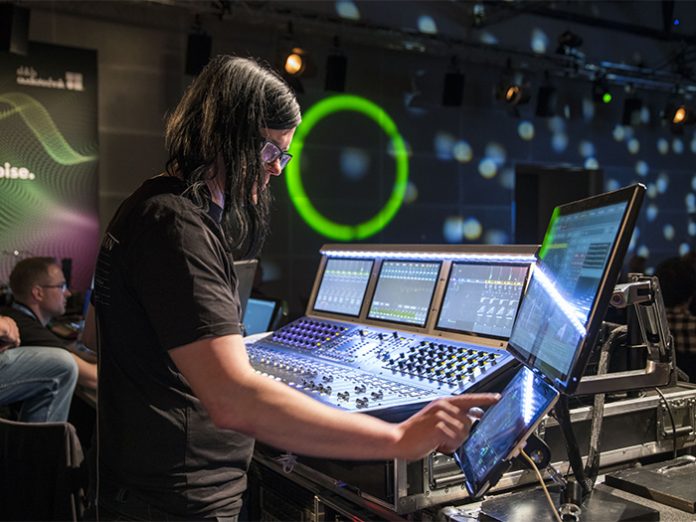 Manufacturer d&b Audiotechnik announces a series of integrations between d&b Soundscape's central DS100 Signal Engine and digital mixing consoles from leading manufacturers DiGiCo, Avid and Lawo.
The newly announced collaborations open up bi-directional interoperability between the DS100 via plug-ins operating on the Open Sound Control (OSC) protocol. The plug-in allows engineers to work with their existing sound console and DAW workflows yet have access to a whole new world of creative potential by bringing the settings for object-based positioning and room emulation directly onto the console surface for each individual channel. The positioning settings can then be stored in the mixer's scene memory.
The d&b Soundscape plug-ins will be available for the complete DiGiCo SD-Range, the Avid VENUE S6L and the Lawo Mc2. The integration with Avid will also include a plug-in for leading DAW software Pro Tools.
"Soundscape represents a significant evolution in the creation of sound environments and how audiences experience sound. To bring that power to our customers in the real world, we understand that Soundscape must integrate smoothly with existing audio control workflows. Through the implementation of plugins utilising VST, AU and AAX formats and the OSC protocol we ensure that the creative process for the designers and mixers is at one with their vision for the sound design," said Ralf Zuleeg, the driving force behind the d&b Soundscape.
DiGiCo Managing Director James Gordon stated, "DiGiCo has worked closely with d&b on numerous world tours and large scale theatrical productions, so integrating with the d&b Soundscape to maximise its creativity is something our clients would expect to see from us."
Al McKinna, Director of Live System Product Management at Avid added, "Avid is excited by the creative possibilities offered by the deep onboard integration that the d&b Soundscape offers our customers. Immersive audio systems are set to transform the live sound industry and we are excited to partner with a pioneer in this field to aid the proliferation of this revolutionary technology."
Lucas Zwicker, Technical Product Manager from Lawo noted, "We wanted to improve the workflow when working with multi loudspeaker installations by bringing console and loudspeaker matrix closer together. With having R1 directly in our console's GUI and adjusting the parameters of Soundscape objects right out of the selected channelstrip, we can now achieve this."
The d&b Soundscape incorporates the DS100 Signal Engine, a high-performance audio processor with Audinate Dante networking and a 64×64 level and delay matrix with extensive in- and output processing and two optional software modules that enable object-based mixing and acoustic room emulation capability.