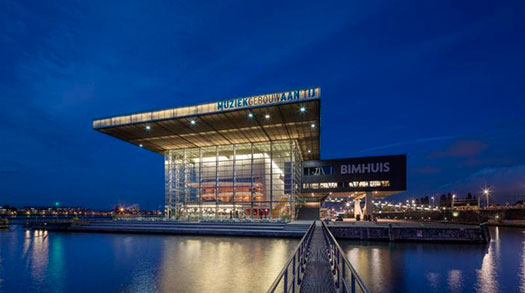 d&b audiotechnik's Column loudspeakers featuring Mechanical Beam Steering have been installed in Amsterdam's famous Muziekgebouw aan het IJ by Ampco Flashlight Sales.
The Foyer Deck of the Muziekgebouw, which resembles a balcony hanging freely in the aquarium-like front of the building, surrounded by glass, is renowned as extremely challenging, acoustically.
However, due to the Foyer Deck's magnificent views over the old part of Amsterdam Harbour, many event producers still want to hold their events within the space, which is mainly used for speech rather than music.
After many years of trial and error with different kind of solutions and brands, the technical crew of Muziekgebouw chose d&b audiotechnik xC series Mechanical Steerable Column loudspeakers.
The speakers are painted in the same colour as the steel construction holding the building and are completely integrated by means of extension arm to have a storage position and a operational position for the Column. In the storage position, the loudspeaker is completely non-obstructive and can hardly be distinguished from its surroundings.
"I'm thrilled that the technical team at the Muziekgebouw selected the Column loudspeakers featuring Mechanical Beam Steering," said Rolf Dijsktra from Ampco Flashlight Sales. "We believe that this d&b audiotechnik system represents incredible engineering yet a simple solution to a complex acoustical problem at the venue."
d&b audiotechnik's 24C 2-way passive column loudspeaker features six 4-inch neodymium drivers and a HF array comprising six 1.1-inch dome tweeters providing a nominal horizontal dispersion of 90°. The HF array has a nominal vertical dispersion of 20°, which can be adjusted constantly between 0° and -14° to target audience listening areas. The beam produced by the low/mid drivers is tilted downwards by 5°, offering significant directivity down to 370 Hz.
The 24C can be combined with the 24C-E passive extension, increasing vertical pattern control down to 190 Hz. The 4-inch drivers are arranged in a unique cardioid setup radiating through waveguide elements at the front and damped ports at the rear of the cabinet. This design provides a constant directivity pattern of 90° in the horizontal plane with a broadband attenuation to the rear of approximately 18 dB. A cardioid dispersion pattern produces minimal energy behind the loudspeaker, reducing reflections and resulting in balanced level distribution across the listening area while increasing gain before feedback when working with open microphones.