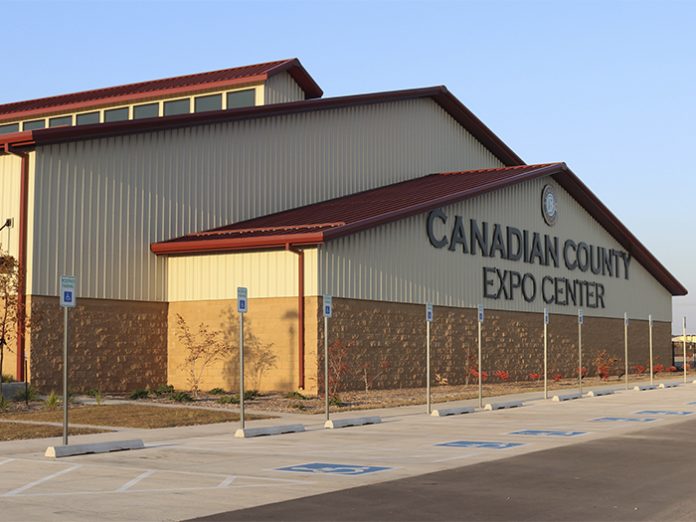 Hosting everything from livestock shows and corporate meetings to concerts, the county fair, and more, the Canadian County Expo and Event Center is the central hub for a wide range of cultural, business, and entertainment events in the greater El Reno and surrounding area. The new facility required a quality audio system that could serve the various functions with high caliber sound. This resulted in a substantial number of loudspeaker systems drawn from the Event, Artec, and OVI catalogs of Valencia, Spain-based DAS Audio.
Titan Audio Visual of Oklahoma City, OK, an audio, video, and lighting design / build firm and live event production company, was contracted to design and deploy the new DAS Audio loudspeaker systems at the Canadian County Expo and Event Center. David Brecheen, Titan AV's owner and company founder, deployed a substantial number of DAS loudspeakers. He discussed the project and his reasons for selecting DAS Audio.
"The Canadian County Expo and Event Center hosts a wide range of events," Brecheen explained. "The venue includes a multiuse facility with a large dirt floor arena for accommodating horse and cattle events, and there is also an attached exposition hall with a full range of amenities for business events. There is an outdoor pavilion for livestock, and special events, plus large open grounds for livestock stalls and trailer parking. All of this covers a considerably large space, so the ability to provide even sound coverage throughout these various areas was no small undertaking."
According to Brecheen, the Indoor Arena Space has audio coverage for all sides as well as the main floor. This area is handled by six independent DAS Event series line arrays—all flown. There are two Event 210 arrays with five cabinets each, four Event 212 arrays with seven cabinets each, and 3 OVI-12 down fill loudspeakers. Further, as many as eight optional Event 218 subwoofers can be ground deployed for special events.
The Indoor Expo Hall includes audio coverage for the main floor. This is accomplished with two Event 210 arrays, each with four cabinets, plus a center fill Artec 510A setup, The outer fills are covered by Artec 510A enclosures. The Indoor Expo Hall also has the option to add more Event 210 cabinets from a portable system that resides at the facility. The Outdoor Pavilion is now outfitted with twenty-one DAS OVI-12T loudspeakers installed for even coverage of announcements and program feeds supplied by the indoor arena. This area can also be fed with program material from anywhere in the building.
Outside the arena—spread across the North, East and West walls—there are seven DAS WR 6412DX-W weather resistant loudspeakers for coverage of the outdoor stalls and parking areas. These enclosures can be fed with program material from anywhere in the building. As referenced earlier, the new DAS loudspeaker systems at the Canadian County Expo and Event Center include equipment for portable use and various special events. This equipment includes eight DAS Event 218A subwoofers, eight DAS Artec 510A enclosures, eight DAS Road 15A stage monitors, plus a variety of microphones, audio consoles, and portable power distribution. Additionally, the main lobby entrance is outfitted with four DAS Artec 506 loudspeakers.
When queried about the reasons for selecting DAS Audio loudspeaker equipment, Brecheen offered the following thoughts, "The director of the facility was already familiar with the DAS Event series and was very happy with their performance, so that prior experience helped immensely. The build quality of the DAS Event and WR series loudspeakers was key to longevity in this space. The outdoor pavilion is exposed to the elements and the indoor arena with its dirt floor required well protected speakers. The Event series also packs a lot of horsepower without much weight. We had a total weight load limit in the Arena that could not be exceeded, and the DAS Event arrays enabled us to achieve the coverage required while staying within the load limit. Equally important was speech intelligibility. The Event 210 and 212 arrays deliver very clear and intelligible vocals to the far ends of the seating section. There is also a considerable amount of music playback, and these loudspeakers are easily cable of pumping up the jams."
Before shifting his focus to other business matters, Brecheen offered these parting comments on the project, "DAS has a wide range of products that fit many applications. On a diverse installation such as this one, all the loudspeakers can be supplied by one manufacturer—and that helps immensely. DAS Audio's support—particularly that of Carlos Henao, DAS Audio's U.S. Accounts Manager—was also a tremendous help. At this point, the various systems have been put to good use, including the portable equipment. Everyone at the facility is very happy with the quality of the system and how it is all working together. We've been out to the facility several times to assist with events and when we arrive, the local radio station is playing throughout the entire facility while the staff is getting things ready. They love having a giant stereo system at their disposal. No matter what type of event, the DAS equipment delivers in a big way!"