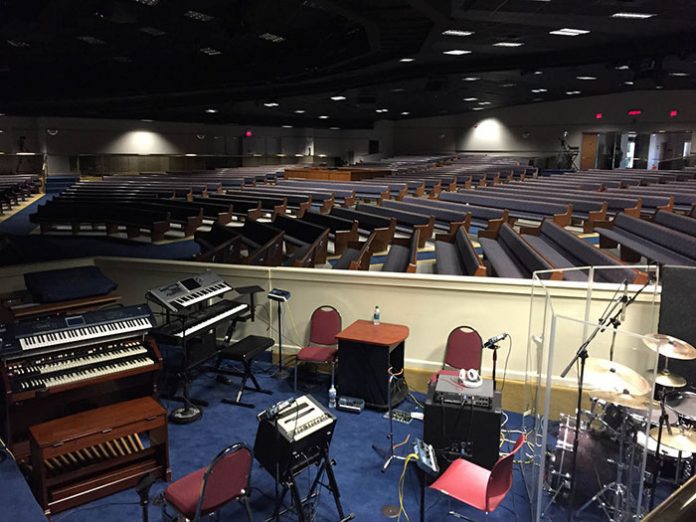 In the 50+ years since its founding, Faith Miracle Temple has moved several times in the northern neighbourhoods of St. Louis, Missouri, the area where its parishioners call home. Its latest and greatest move will hopefully be its last, as Faith Miracle now has a sanctuary large enough to comfortably seat its growing congregation. With room for 1,100 people, the church's new sanctuary also provides a beautiful venue for its high-energy, high-volume, big-talent band. With the help of Don Ludwig of Ludwig Marketing and famed acoustician Doug Jones of Danley Sound Labs, Integrated Systems Group-STL (ISG), based in St. Louis, installed an impactful, point-source Danley Sound Labs sound reinforcement system.
"Faith Miracle Temple is an existing client for whom we've been providing service for many years," said Parvin Tramel, System Sales and Design Consultant with ISG. "Their new sanctuary is fan-shaped, with a tight throat at the fan. We worked with Pastor Dave Baylor, who is very technologically savvy. Nevertheless, he hadn't heard of Danley, and they were our top recommendation for getting the kind of clear, powerful sound that they wanted. We called on Don Ludwig, who had a Danley system we could demo for the church. Don came in and powered up a simple system comprised of a Danley SH-60 loudspeaker and a Danley DBH-218 subwoofer. Their decision was made pretty much as soon as they heard it. You could see their faces light up; it wasn't going to take any convincing!"
Doug Jones designed the system, which centres on four Danley SH-60 full-range loudspeakers, three Danley SM-96 full-range loudspeakers, and two Danley DBH-218 subwoofers. The subwoofers hang from the ceiling at a center point just above the edge of the proscenium, with two SH-60s to either side. Like all Danley loudspeakers, the SH-60s have excellent pattern control, and the two SH-60s on either side array seamlessly to provide the necessary coverage to the fan-shaped sanctuary. The three SM-96s form an exploded delay ring for clear coverage at the back of the room. A Midas Pro II console serves as the system's user interface, with a Danley DSLP48 processor and PowerSoft 1204 and x4 amplifiers providing behind the scenes support.
"In addition to designing the system, Jones came down to St. Louis to help commission it," said Parvin. "That said, there wasn't a lot to do. Doug's design was so good and the Danley sound is so natural that the system sounded pretty flat even before we touched the EQ. The client is impressed by how loud the system can go, and it never sounds distorted or harsh or annoying. It's always beautiful. Even though you typically lose low-end energy by flying subs, the Danley boxes already have so much more output than any comparable sub of their size, we still have abundant low-end to dial in. The client is also very pleased with the low end impact."