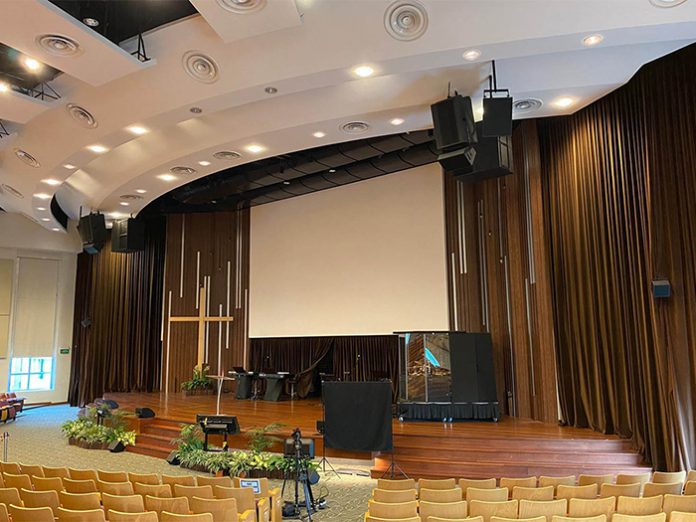 Founded over half a century ago by twenty-five original members, Bartley Christian Church has grown organically into one of the largest churches in Singapore. To keep up with that growth, the church built a new fan-shaped sanctuary in 2006 that can accommodate 1,200 congregants. However, sightlines were challenging from the start, and as the system aged, it could not keep up with the church's shift to higher impact music. Local AV integration firm and regional Danley distributor, Soundsmith Solutions, designed and installed a new sound reinforcement system for Bartley Christian Church that centers on two Danley J7-95 Jericho Horns, a variety of Danley smaller full-range boxes for fill, and four beefy Danley TH118XL subwoofers for robust low-end support.
"The existing system at Bartley Christian Church, being ten years old, was showing its age and struggling to keep up with the higher impact music they are playing these days," said Nicholas Loe, regional manager, Danley Asia. "Additionally, the way the previous system was designed and installed interfered with the line of sight to the projection screen. Many seats had an obstructed view of the stage and screen. After two years of research and discussions with existing users, church officials made the decision to go with Danley Sound Labs."
Soundsmith Solutions was tasked with designing and installing a new Danley system that would provide even coverage, great intelligibility, and big musical impact without obstructing any sightlines, despite a relatively low ceiling for the size of the room. "The Danley J7-95 Jericho Horn proved to be the right box for Bartley Christian Church's sanctuary," Nicholas said. "Line arrays would have failed the line-of-sight requirement, whereas Danley's small footprint and big output could get the job done. Pattern control was also an important factor. Danley's patented technologies provide even coverage within the beam and remarkably little output outside of the beam. Danley's point-source phase coherence and fidelity were also important considerations."
The installed system at Bartley Christian Church relies on two Danley J7-95 Jericho Horns for the majority of coverage. At 36" by 24" by 24", the J7-95's small footprint is still capable of delivering 141dB SPL continuously. Like all Danley Synergy Horn technologies, it combines multiple drivers (eight high, four mid, and six low in this case) in such a way that their output exits as a single, phase-coherent wave that maximizes fidelity and intelligibility. In addition, two Danley SH95 loudspeakers provide down fill, two Danley SH46 loudspeakers provide side fill, and six Danley SH minis provide front fill. To round out the low end, four Danley TH118XL subwoofer (two per side) reside behind the Jericho Horns and extend the system's response to deep, soul-moving frequencies. An Allen & Heath Avantis Mixer controls the new system.
"This Danley design proved to be the winning combination for Bartley Christian Church," Nicholas concluded. "The measured results showed a tremendous improvement over the previous loudspeaker system. The Danley boxes deliver vastly greater intelligibility, with an average of 0.76 STI achieved across the hall with very little deviation. Clarity is way up compared with the previous system, as is dynamic range. There is ample headroom, and feedback is not a problem. Sightlines are also great. Everyone can see the large screen, even those sitting at the extreme edges of the seating area. To top it off, the front-of-house crew is now happy because they have a representative version of the mix from their position."