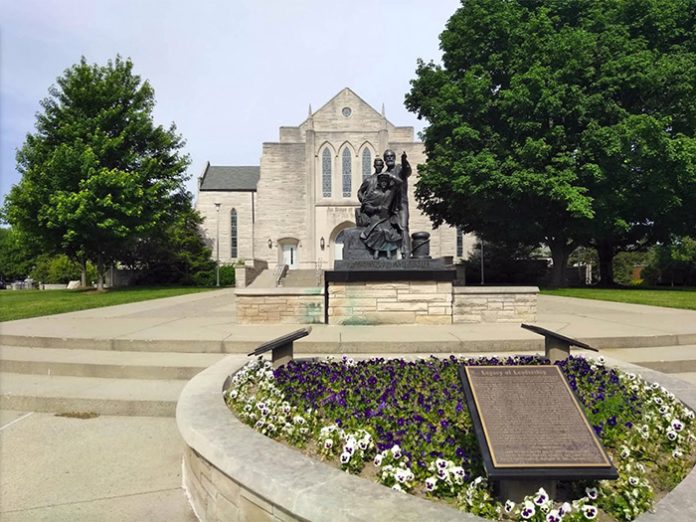 With over 3,000 students, nearly 1,000 of which are in seminary, Andrews University is the flagship institution in the expansive Seventh-day Adventist school system. It is located in Berrien Springs, Michigan. Pioneer Memorial Church is situated on the Andrews University campus and serves a vital role in the school's spiritual and social life. Its congregants are diverse, young, and fired up. Global technology solutions provider, New Era Technology (Mishawaka-branch), recently revitalized the sound reinforcement in Pioneer Memorial Church with Danley Sound Labs SBH10 and SBH20 columnar loudspeakers, Danley TH212 tapped-horn subwoofers, and Danley DNA amplifiers with integrated DSP using Danley model presets.
The audio engineering experts at New Era Technology discovered Pioneer's old system was sorely lacking evenness and coverage. "It was a cluster of units placed fifty feet up in the air, at the top of the sanctuary's large A-frame ceiling," explained Paul Black, account executive with New Era Technology. "Not everyone could clearly hear what was going on, and the system lacked overall intelligibility. The frequency response was limited." In short, Pioneer Memorial Church needed smooth, even coverage across an expanse of pews capable of accommodating approximately 1,000 people. That includes a loft section at the back of the sanctuary and the pews below it.
"When we saw that Pioneer Memorial Church had requested an RFP for Danley Sound Labs, we knew they had done their homework," Black said. One of the New Era Technology's staffers noted that Danley loudspeakers are like a breath of fresh air. He quipped, "They're the closest thing I've heard to a high-end home speaker in terms of smoothness and musicality." New Era Technology's audio engineering staff note that their pattern control is reminiscent of the fine cone of mist from a gardener's hose attachment. "Every aspect of a Danley box and the service that backs it up is well thought out," Black said. "It's clear they really care about delivering great audio, not just about making a buck. Danley loudspeakers and subs sound great and detailed when operating at lower SPL levels, and when you turn the volume up, it just gets louder but not harsh or grating; the system remains pleasant and detailed."
Pioneer Memorial Church's new system starts with three pairs of Danley SBH-series columnar loudspeakers. Danley SBH10s on each side of the stage cover the first half of the sanctuary, and a delayed pair halfway back cover the remainder, including under the loft. A pair of Danley SBH20s cover the loft. Two beefy Danley TH212 subwoofers ably fill out the low end. A pair of four-channel Danley DNA 10k4 Pro amplifiers power the system with 20,000 combined Watts. New Era Technology ordered the DNA amplifiers with optional Dante connectivity to connect with the church's existing console.
There were some concerns about how the new loudspeakers would look. Their old system was way up at the top of the ceiling, and the proposed system was lower and more in sight. New Era Technology worked closely with the church to coordinate the aesthetic concerns, producing 3D models of the space, showing the client exactly what the system would look like. "The column form of the new loudspeaker system is attractive, and they have been professionally painted to blend in with their surroundings," Black said. "The church is very happy with the look, and they're thrilled with the clarity, evenness, and intelligibility of their new Danley system."