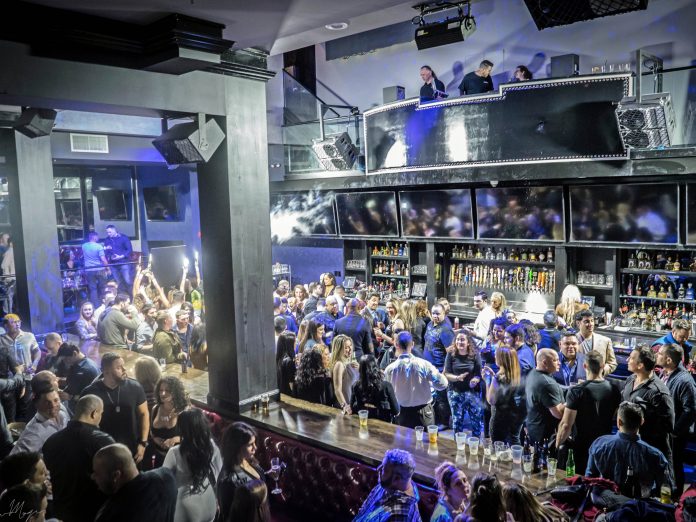 Billed as Hoboken's premiere ultra venue, the Hudson Ultra Bar is a state-of-the-art music, dance, and entertainment facility that gives new meaning to the nightclub scene. VIP booths surround the dance floor, offering a high-energy experience for table guests who wish to be at the center of the action. This venue defines what DJ music and entertainment is all about. To ensure the best music reproduction capabilities, the Hudson Ultra Bar deployed loudspeaker equipment specifically designed for this type of environment. That's why they chose Sound Force Series loudspeakers from Valencia, Spain-based D.A.S. Audio.
Global Audio Systems of NY, NY, a full-service provider of audio, visual, DJ, lighting, staging, and related entertainment services, was contracted to handle the design and implementation of the Hudson Ultra Bar's sound reinforcement system. Company owner Jason Ojeda, who oversees system consultation, design, and installation, discussed the project.
"The Hudson Ultra Bar is an open-format, multi-level dance club with elaborate VIP accommodations and a large, raised catwalk-style DJ Booth. With two levels, there is approximately 6,000 square feet of space. Music is a driving factor of the activity in this club, so having the ability to produce the necessary sound pressure levels while keeping the music's sound true to form was crucial to this installation."
To provide coverage throughout the venue, Ojeda and his crew flew two D.A.S. Audio Sound Force SF-20A powered mid-high biamplified enclosures—one each for the left and right sides of the main dance floor and bar area. Low frequency support is provided by two SF-30A powered subwoofers, which incorporate Powersoft's 30-inch M-Force Moving Magnet Transducer, with one enclosure each ground stacked for the left and right sides and positioned under the VIP and stairwell areas.
The Hudson Ultra Bar has both first and second floor delay systems. The ground floor incorporates seven D.A.S. Audio SF-10A powered 2-way enclosures plus four SF-26 2-way passive enclosures with dual 6-inch cones and a 1-inch HF driver, along with two D.A.S. Artec 322 bass reflex sub bass enclosures. On the second level, this setup is essentially repeated, but with ten D.A.S. SF-10A powered 2-way enclosures instead of seven, as on the lower level.
Rounding out the all-encompassing SR system, there are two weatherized D.A.S. Audio WR-8826 2-way passive enclosures with dual 6-inch transducers plus a 1-inch annular diaphragm compression driver. In the upper level restrooms, there are four CL-6TB flush mount ceiling speakers that utilize a sing 6-inch transducer. Keeping the DJ booth involved in the action, Ojeda and his crew placed two Sound Force S-10A 2-way enclosures accompanied by a single Artec 322S bass reflex subwoofer equipped with dual 12-inch transducers. For those passive loudspeaker systems, power is provided by a combination of four D.A.S. Audio D-100 4-channel power amps, two PA-1500 stereo, and two PA-900 stereo power amplifiers.
When queried about those aspects of the Sound Force Series loudspeakers that made them so well suited to this project, Ojeda offered the following thoughts, "We chose the SF-20 as the mains because of its amazing intelligibility in the vocal range. The Hudson Ultra Bar is now the second install with the SF-20 and it truly sounds like a pair of B&W 802¹s and you are sitting in your living room!"
Ojeda was equally enthusiastic about D.A.S. Audio Miami's customer and technical support services. "The entire D.A.S. staff is always ready to assist and ensure the job proceeds as planned and is done correctly. They are on top of their game in a big way."
Installation at the Hudson Ultra Bar took place during May 2017 and the Grand Opening was held on April 1st. Since that time, Ojeda says he's received numerous compliments from his client, "I couldn't be happier with this install. It went flawlessly. The design of the rig enables the customer to walk to any area of the venue and have the same experience sonically. Time alignment was a key aspect to the success of this install and the system sounding the way it does. The D.A.S. Audio loudspeakers sound amazing and do so with very little EQ. They produce a very natural and smooth sound."
Mike Citarella, owner of the Hudson Ultra Bar, concurs, "This DAS sound system is amazing. The sound is crystal clear, our customers love it, and best of all, the delivery of the sound fills the club without being so loud that you have to scream at one another. People can actually carry on conversations without yelling. D.A.S. has delivered big-time for us!"