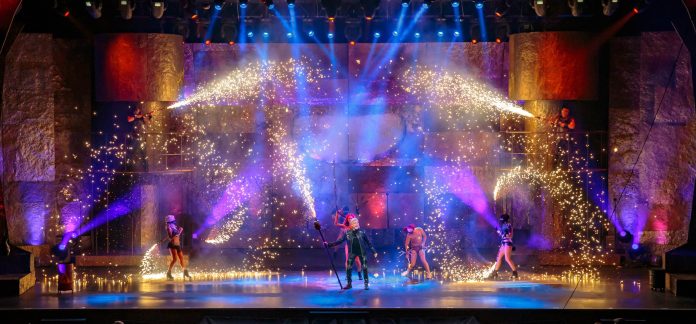 Currently playing at the Paris Theatre in the Paris Las Vegas Hotel & Casino, Inferno: The Fire Spectacular features magic extraordinaire Joe Labero alongside Europe's craziest fire artists.
Here, guests witness a gasoline spectacular that mixes a variety of favourite acts and illusions with death-defying fire stunts. It's hot, dangerous and 'scorchingly' magical. To ensure the sonic aspects of the show are every bit as vibrant as the visuals, a new sound reinforcement system was recently installed using components from the Aero Series 2 catalog of Valencia, Spain-based loudspeaker manufacturer D.A.S. Audio.
Las Vegas based AG Production Services, which serves the Las Vegas entertainment industry with both live event production and AV design / build services, was contracted by Darrell Clulow, Director of Technical Operations for Caesars Entertainment, to design and deploy the new sound system at the Paris Theatre.
Ricky 'Bongos' Galecki, Project Manager and Head of Audio Services, oversees all of the audio design and implementation for AG Production Services. After consulting with the theatre's management staff responsible for show production to determine their requirements, the decision was made to deploy D.A.S. Aero 20A powered, compact line array elements, augmented by LX-118A powered, arrayable powered subwoofers, and Aero 12A powered, two-way, mid-high line array modules.
According to Galecki, "With seating for 1,200 people, the Paris Theatre is a spectacular mid-size room. For space this size, it was critical that the new sound system provide even coverage throughout the space while delivering crisp, articulate speech intelligibility and natural sounding music reproduction characteristics. We've had excellent results with D.A.S. equipment on other installations, so it made sense to deploy the company's loudspeakers here as well."
In the Paris Theatre, the setup includes 10 D.A.S. Aero 20A line arrays—flown 5 elements per side over the right and left edges of the stage area. Each of these loudspeaker clusters is augmented with a single LX-118A powered subwoofer that resides at the top of each hang. Completing the setup is a centre flown loudspeaker cluster that consists of 4 Aero 12A powered line arrays that serve as the system's centre fill.
When queried about those attributes of the D.A.S. equipment that made this combination of loudspeakers so well-suited for this installation project, Galecki offered these thoughts. "First and foremost is sound quality," he said. "In this regard, D.A.S. loudspeakers deliver very high-end audio with very little need for EQ.
I also appreciate the fact that the entire system is self-powered. This way, you're assured the power amplification driving the system is optimised for the enclosures, which helps take the guesswork out of the equation along with eliminating the issue of where to store a rack of power amps. Equally important is the fact that the hardware makes flying these loudspeakers considerably easier."
With many installations of this complexity, questions inevitably arise. Here too, Galecki spoke very favourably of D.A.S. Audio's customer and technical support services, "I absolutely love working with D.A.S.
The Aero Series 2 loudspeakers are some of the most user-friendly models I've ever come across. And when we do encounter something that requires support, the D.A.S. team in Miami are easy to work with, responsive, and always provide the information we require. They've been great."
Before turning his attention back to his company's business, Galecki offered these parting thoughts regarding the Paris Theatre project: "The Paris Theatre job took place in January and the gear was placed into service the week following installation. Since then, it's been really well received. We used this system to replace another company's rig that was installed only a year prior. The heads at Caesars were ecstatic with how wonderful the D.A.S. loudspeaker system sounded! Compared to the previous loudspeaker setup, they said the difference was like night and day. I now look forward to using D.A.S. products and improving venues all over Las Vegas for many years to come."
www.dasaudio.com