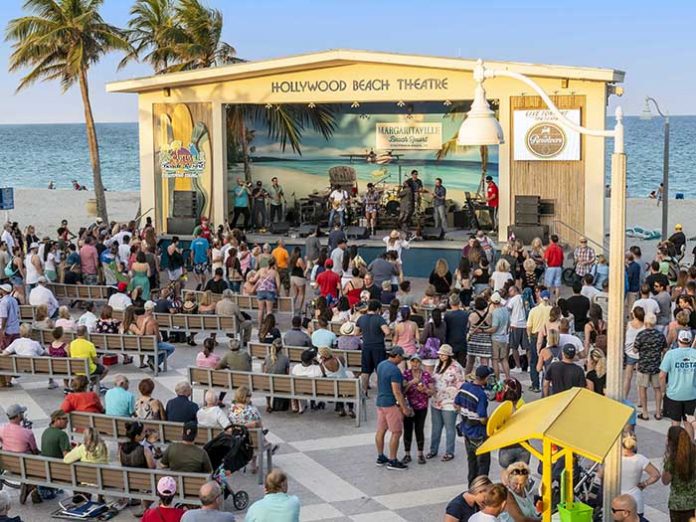 D.A.S. Audio was recently selected to upgrade the sound reinforcement capabilities at the legendary Hollywood Beach Bandshell. After careful consideration and evaluation, the purchased equipment was drawn from the Event Series catalog of D.A.S. Audio.
Ricardo Cintron-Jimenez, the Professional Accounts Manager for Guitar Center Professional of South Florida, handled the sale of the D.A.S. equipment through Margaritaville Hollywood Beach Resort.
Ricardo explained: "The resort works very closely with the city to manage the iconic Hollywood Beach Bandshell. As an outdoor venue, the new D.A.S. loudspeakers are moved on and off the stage each day."
With this in mind, the setup includes covers for the loudspeakers to help protect them as they are moved, along with stacking brackets. Once the equipment is moved onto the stage, the setup provides for three ground-stacked D.A.S.Event 208A loudspeakers each for the left and right sides—accompanied by one Event 208A subwoofer for each side.
For Margaritaville Hollywood Beach Resort, quality customer service and technical support were important considerations as part of this transaction.
D.A.S. Audio's customer and technical support teams proved integral to the resort's overall purchase decision.Ricardo added: "The D.A.S. team always delivers with brilliance , when we decided to conduct a live demonstration at the resort, both D.A.S. Miami's General Manager Jaime Villegas and US Accounts Manager Carlos Henao were 120% supportive. The demo was very successful and helped immensely with the negotiation."