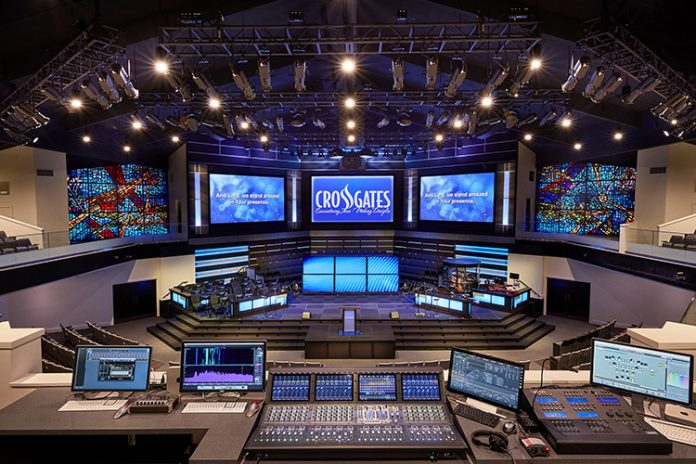 An extensive renovation project at Crossgates Baptist Church in Brandon, Mississippi, saw a complete sanctuary AVL refresh over the course of two years. Beginning in 2015, AVL systems integrator Paragon 360 designed and installed all new AVL systems, custom scenic and staging elements, motorised rigging systems, and acoustical treatment. And the centerpiece of the project, which was completed in January 2017, is a RoomMatch loudspeaker system from Bose Professional. Paragon 360 chose the RoomMatch system because of its track record in attaining high speech intelligibility and touring-level music quality in acoustically challenging spaces.
The sanctuary had a number of challenges, including an odd geometry that saw a traditional balcony design considerably extended with additional seating elevated along the sides of the room. "That meant there were going to be shaded areas that we'd have to plan for in the system design," explained Mark Coble, Paragon 360's Lead Audio Designer. In fact, the Bose RoomMatch system provided an infrastructure that was able to comprehensively resolve this challenging audio situation. Using Bose Modeler software in conjunction with EASE acoustic simulation software, Mark and his team were able to precisely determine which areas of the sanctuary would need special attention, and the range of over 40 high specific pattern configurations the RoomMatch system offered assured that they would have exactly the tools they'd need to address them.
The main worship-centre audio system is composed of three main line arrays with six RoomMatch enclosures in the center cluster and four each in the side hangs, as well as six flown RMS218 subwoofers in an end-fire subwoofer system. The challenging balcony fill situation was remedied using seven RoomMatch Utility RMU206 small-format under-balcony fill loudspeakers. The entire system is powered by 14 Bose PowerMatch PM8500N amplifiers and processed by a Bose ControlSpace ESP-880 engineered sound processor. The sound system is rounded out with two Avid S6L consoles for front-of-house and broadcast-audio mixing, and an Avid S3L console handles all Pro Tools mix-down sessions captured during the services and in-house stems for use with the band.
"The RoomMatch modules were able to focus the sound exactly where we wanted it, on the seats, and away from where we didn't want it, like walls and other reflective surfaces," said Mark. The result, he said, was satisfaction across the board, from pastors who were pleased with the high level of intelligibility that RoomMatch puts into every corner of the room, to musicians, like contemporary worship-music stars Elevation Worship, who were the first to play through the new RoomMatch system. "The sound quality is outstanding," said Mark. "Members of Elevation Worship let us know that they were able to hear things down around 25Hz in their stem tracks that they didn't know were there, and this is a band that plays on premium sound systems around the world. It really says something about what you can accomplish with RoomMatch."
Donnie Brawner, Owner, President & CEO of Paragon 360, notes that working with Bose Professional was a positive experience from start to finish. He remarked: "Bose was very responsive to our needs throughout the entire project. Their product was a perfect fit for the need we had at Crossgates, and the client has been thrilled with its results. Bose was able to deliver the product for us in a very timely fashion and has offered excellent support."